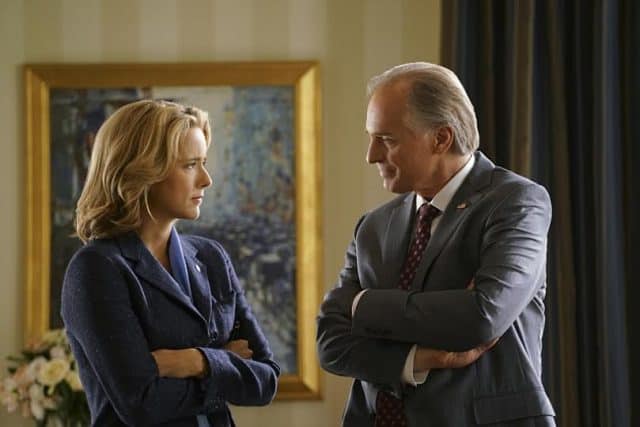 This is it. The end of season two of Madam Secretary. Prepare for moments of shock and awe! It's going to be one hell (no pun intended) of a season finale before the waiting begins for season three.
In the previous episode, we learned that Dmitri might still be alive, which begs the question, why fake his death if that's the case? Do the Russians want information on the United States, so they decided to make it look like the young man had died? Whatever the reason is, Elizabeth will get to the bottom of it. That is if she doesn't get replaced first, which she won't be because if she is replaced as Secretary of State, then the whole premise of the show will go up in smoke. On the other hand, I'm curious to find out who will be Elizabeth's replacement.
There's also potential wedding bells in the works for Stevie and Jareth as the latter had proposed to the eldest McCord. I'm happy for the two of them and hope that it works out for the better. Stevie has been through her share of bad relationships back in the first season and now that she had found Jareth, things will start to turn around for her. As for how Mr. and Mrs. McCord will take the news, I think that there will be some sage advice (after the shock has worn off) along with words of congratulations thrown into the mix in true McCord fashion.
In the promo clip below, Henry said "I think that it's inconceivable that he would turn on me." which made me think of Dmitri. Why would Dmitri turn on Henry if it is indeed the former? Did the Russians threaten his life if he doesn't give them what they want? The suspense is killing me! I also wonder if President Dalton would agree to exchanging Peter Buckley for Dmitri. I have a sinking feeling that the President might not go for it, but somehow I think Elizabeth will convince him otherwise. For the sake of her husband's sanity and the guilt that he has been feeling over what happened to the young man.
Photo via CBS, Video via YouTube