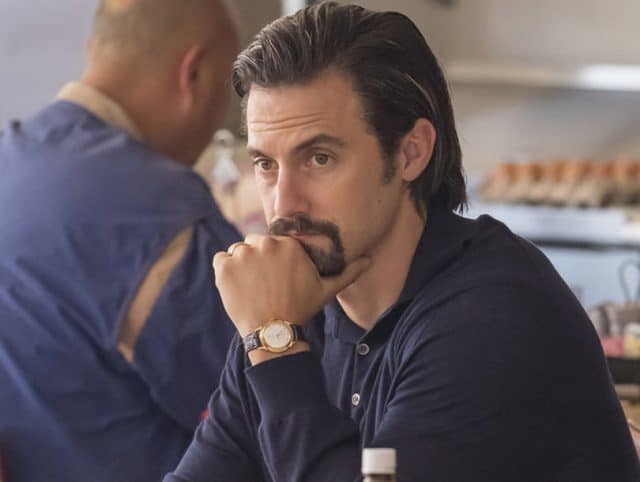 This Is Us is finally back and we, in addition to Kleenex, are extremely pleased. The show that put heart back into network television a year ago has returned to make us feel everything. Yes this is the family that has the power to make the most stalwart of individuals turn into complete puddles, which I'm certain happened again in the last five minutes of the season premiere. But this show, this family, and these stories also made us smile, made us laugh, and made us want to reach out to the person nearest us and ask how they were. This is the show that made us care again, and boy, do we care about the Pearson family. And so we pick up exactly a year after we first met Kevin, Kate, and Randall, this time on their 37th birthday. Last year they were lost, and found what they were looking for just by looking to each other. Now they must look within themselves, and yes, Jack Pearson is with them every step of the way–except for the one moment that he isn't.
In the present day, Kate, Kevin, and Randall are all in good places. Kate is miles away from the person she was last year. She is engaged to Toby, and that has given her the courage to pursue her dream of singing. Kevin may be in the same physical space that he was in last year, but this time he's going after his dreams on his terms, and with the support of the love of his life. Randall is making peace with losing his father because he had the courage to reconnect with him before he died. All the while William narrates his final words to his son, and to us, that though it is better to have loved and lost than to never have loved at all, he would do well not to lose love at all.
The only blot on Kevin's upward trajectory is that he can't spend his birthday with Sophie because her mother is ill. It's not so bad because Kevin still gets to spend his birthday with his twin, which annoys Toby. Toby appreciates the bond the twins have, but wants to be Kate's main person. When Kate loses her nerve and walks out of her audition, Toby feels outraged that Kate told Kevin first. Both Kevin and Toby want to be there for Kate in her own way, but she has to stand on her own. She also needs to be judged on her own merit instead of her weight, and for the first time that happens. That type of rejection is the best birthday present Kate could have gotten because it galvanizes her to work harder. Kevin also gets the best birthday present he could have asked for-Sophie on his doorstep.
Randall is practically walking on air at the thought of adopting a baby like his parents adopted him. Adoptions don't tend to work when only one parent is enthusiastic about the decision. The one person Beth wishes she could talk to is no longer here, but through his words, and with a little help from Rebecca, Randall gets there. He realizes that in his quest to complete their perfectly imperfect family he is leaving Beth out of the decision. They wouldn't be Beth and Randall if they didn't think alike. They want the same thing, but Beth just has a different idea of going about it. How Randall was adopted is a beautiful story, but it isn't the only story, or the only way to adopt a child. Adopting an older child who needs more support and has less chances at it, that can be their story.
Who Kate, Kevin and Randall are always comes back to the most influential person in their life: their father Jack. For months we've speculated on just how Jack would die, and though we didn't see the moment, we got the answer. The day after Jack and Rebecca decide to separate, unaware that Randall heard every word of the argument, they spend the day thinking about what to do next. Rebecca then shows up to take Jack home, but is stopped near the end of her speech by Jack's admission that he is an alcoholic. Rebecca then asks to work on this problem together, and we know that somehow they did, because Jack does not die until the kids are 17. In that time Randall has a girlfriend, Kevin has broken his leg, and from the story grown-up Kevin tells Toby, Kate is the one to tell Kevin about their dad's death. But the biggest clue to Jack's death is the Pearson house burned to ashes, as Rebecca sits in the car outside screaming for her husband, nothing left but his personal effects in the passenger seat.
You tell us This Is Us fans: how was the finale, and how many tissues did you go through?
This Is Us Season 2 Episode 1 Review: "A Father's Advice"
Summary
This Is Us catches up with the Pearsons on a hopeful 37th birthday, and gives us the horrible answer to how Jack Pearson died.