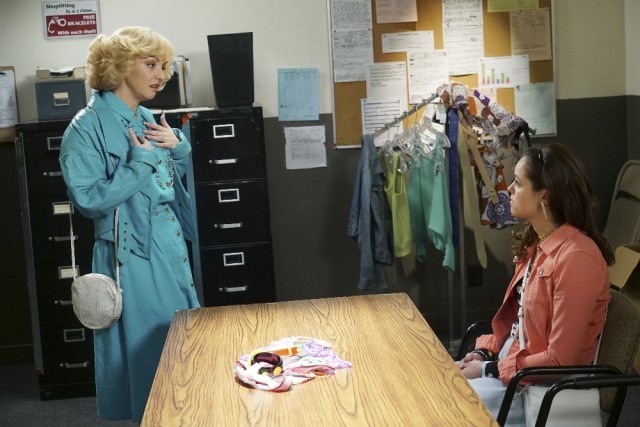 It was so odd not getting a new episode of The Goldbergs last Wednesday, so let's enjoy a new episode this week by taking a look at tonight's new episode, "12 Tapes for a Penny."
The main story in the episode concerns Adam, the lover of music, deciding to sign on with Columbia House to get twelve tapes for a penny, at the suggestion of Dave Kim ("Dave Kim doesn't read the fine print!"). After consulting with Erica, he decides that he's going to, essentially, commit mail fraud in order to get all of the free tapes with none of the consequences. As you can expect, this doesn't completely work out as Adam wants, and Beverly finds out and blames everything on Erica (something that Adam is more than happy to continue). Erica, finally fed up with always being blamed for anything bad that happens, heads out to go shoplifting and fulfill the role that she thinks her mom sees her in. Beverly ends up seeing the error of her ways, though, but a phone call telling her that her daughter is in mall jail changes her mind. It turns out that Erica was in for noble reasons, though, leading to another major argument between mother and daughter once Beverly blames her for nothing yet again. In the end, everything works out after Beverly apologizes (with a little help from the band Chicago), and mother and daughter share a very sweet and emotional moment.
Also in "12 Tapes for a Penny," deals with Barry's continuing effort to win over his girlfriend Lainey's dad. Nothing seems to work, though, especially once Barry realizes that Bill hates him because he's him, not because he's Lainey's boyfriend. Barry tells Lainey his thoughts, and her intel makes him attempt to get to know Bill (much to Murray's chagrin). Murray ends up having to pull Barry out of the hole he's dug himself into, and, in the end, Bill realizes that he's been too hard on Barry. The story ends with a perfect moment between Bill and Barry, and it's great that Barry's relationship with Lainey is becoming more and more real with each passing episode.
"12 Tapes for Penny" had two very strong stories, but the better of the two was easily the one about the tapes. Adam seemed to be the major character of that plot, but the bait-and-switch that resulted in Erica and Beverly taking center stage was fantastic, and the moments between the two were among the best that the show has had. Wendi McLendon-Covey and Hayley Orrantia have consistently been some of the strongest performers on ABC's Wednesday night lineup, and this episode of The Goldbergs shows that better than ever. The moment between Bill and Barry outside of the school was also fantastic, and I hope it leads to even more between the two.
What did you think of this week's new episode of The Goldbergs? Let us know your thoughts in the comments down below!
[Photo Credit: ABC/Ron Tom]
Tell us what's wrong with this post? How could we improve it? :)
Let us improve this post!