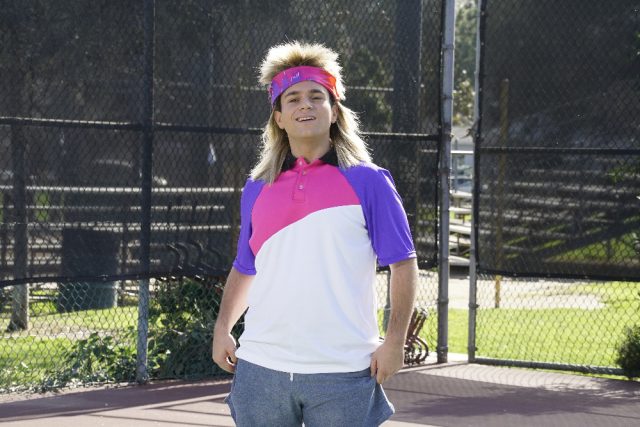 The Goldbergs has been firing on all cylinders this season, and it seems like the show can do no wrong. It's been a couple of weeks since the last episode, so let's jump in and see what happened in this week's new episode, "Agassi."
The main story in the episode deals with the fact that Adam feels like he's losing his best friend, Chad, when Chad starts doing his own things, like tennis, instead of making their own home movies like they always have. Adam tries to get Chad back into movies, but ends up attempting to get into tennis instead when Chad is completely uninterested in seeing Quicksilver with his friend. Unsurprisingly, Adam is super, super bad at tennis, and Chad goes behind his friend to become doubles partners with Dave Kim. To get back at Chad, Adam resolves to become the best at tennis. Still, though, he is just so very bad at tennis, so he recruits Barry (who loves both tennis' Agassi and revenge) to help him out. When the big day comes, though, Barry is (surprise) also very, very bad at the sport. The match nearly splits the two friends for good, but Adam and Chad realize that their friendship is much more important than any hobbies that they have.
Elsewhere, Erica has given up on love after missing out on Geoff. Lainey is unable to help Erica on her own, so she recruits Mr. Glascott to hold an intervention for everyone's favorite Goldberg daughter. Included in the intervention are Erica's parents and Barry's "interchangeable friends" (a great meta moment for the show), and Beverly decides that she's the only one that can truly bring Erica back to her old self. Beverly's solution, oddly, is to try and get Erica into disco to make her forget her worries, and it almost works. Unfortunately, she just can't seem to avoid her friends (or Geoff) no matter where she goes (after finally getting away from her mom). When Geoff's girlfriend starts pitying her, though, she realizes that she has to "get back on the bike," and she finally gets back to her old self. Getting back to form, though, involves her stealing a credit card from her mom and trying to throw a party, but Beverly cancels the card to keep her from reverting back to her "bad girl" persona. In the end, though, Erica manages to get her groove back with Beverly's help, bringing back the Erica that we all know and love.
I've been a fan of Erica's love life drama since the story with Geoff began, and this episode was no exception. We've now seen her stumble and have to get back up, and I can't wait to see where the story goes from here. I also loved the look into Adam's friendship with Chad, because it's very important that relationships continue to exist outside of the immediately family. Overall, "Agassi" was another great episode of The Goldbergs, and I already can't wait for next week.
What did you think of this week's episode of The Goldbergs? Let us know your thoughts in the comments down below!
[Photo Credit: ABC/Kelsey McNeal]
Tell us what's wrong with this post? How could we improve it? :)
Let us improve this post!