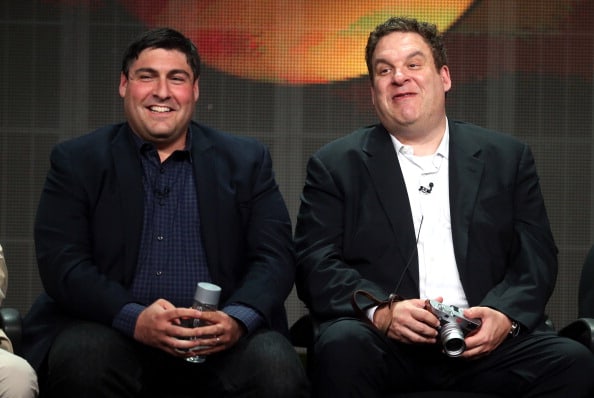 As anyone that's read my reviews from this past season will know, I'm a really huge fan of The Goldbergs, ABC's critically-acclaimed family comedy based on the life of its creator, Adam F. Goldberg. I've been hooked on the show since the very first episode and was able to enjoy, as a viewer, how it really hit its creative stride in the second season.
Recently, I got a chance to talk with Adam F. Goldberg himself about the history of The Goldbergs in general, as well as a little bit about the upcoming third season, premiering on ABC this fall. Here's how that conversation went down:
TVOvermind: Adam, tell me a little bit about how the show came about. Since it's based (at least loosely) on your childhood, was it you that had the idea or was it a network proposing it?
Adam F. Goldberg: About eight years ago, I showed some of my home movies to Doug Robinson, who runs TV at Happy Madison [Productions]. He immediately said that this was a TV show, which I didn't believe because that's his job to say that, and I was certain no one would care about the way I was raised. It wasn't until I became a dad myself that I had new insight on how my parents raised me…which was the exact opposite of how I was raising my children. After my first show, Breaking In, was cancelled after Season 2, I was licking my wounds and returned to the idea [of The Goldbergs]. I decided to do a Wonder Years-type show about the 80s, about my "smother" and father, who never wore pants. I edited together my home movies, went into the networks, pressed play, and said "this is the show!"
Since the characters are based off of real people, how involved were you with the casting?
As a showrunner, it's my job to do it all. That includes casting. It was tricky casting my actual family. I saw so many great actors that just weren't right for the part. Casting Barry was the hardest because he had to be passionate and emotional, but also lovable like my real brother. Troy Gentile was the only actor we found that nailed it, thank God!
What has it been like to have so much support from ABC about giving [the show] time to grow and find a real audience?
It's a dream to have a network that fully understands the show, supports it creatively 100%, and will do anything to make sure it succeeds. My first show, Breaking In, completely confused the network president, who never got the characters or concept. It was retooled so many times. Each week, they wanted a different show to the point where I didn't even know what it was anymore. The Goldbergs has been a dream from moment one — mainly because Paul Lee [president of ABC] came from a similar family. He had a similar experience and really understood what I was going for.
One of my favorite episodes has been "Barry Goldberg's Day Off" from Season 2. Are there plans for more episodes that are homages to movies from the 80s?
Each year, I'm going to do one huge movie homage episode. They take nearly six months to plan, because I need to get so many approvals. I'm zeroing in on what I want to do this year, and it's going to be epic!
Lainey has been used in a growing role ever since she was introduced, but what kind of effect will AJ Michalka's promotion to series regular have on the cast?
Lainey really helped ground Barry and gave him a much needed victory in Season 2. I want to explore their dysfunctional relationship in Season 3 because they really make such a great couple.
JW: Is there anything you can preview about Season 3?
Episode 1 will most likely be very tied to my favorite 80s teen movie that's very R-rated. But I won't spoil which one!
Finally, do you have any fun/interesting stories about something that happened on set?
Jeff Garlin [who plays Murray Goldberg] will make Sean [Giambrone, who plays Adam] say the most absurd and random things to entertain me while I edit. During a scene, Sean will look at the camera with a grin and blurt out something like "I'm a pretty lady who sells lotion!" The laughs are much appreciated during the late nights.
____________________________________________________________________________________________
I'm really looking forward to the next season of The Goldbergs, and I want to thank Adam for being so kind as to answer a few questions for us. If you haven't yet, be sure to check out previous episodes of the show and experience what a great comedy it is. If you need more push, check out my article from a few months back about the Five Reasons You Should Be Watching The Goldbergs!
Are you looking forward to Season 3 of The Goldbergs? What elements are you hoping to see when it returns this fall? Let us know in the comment section below!
Photo by Frederick M. Brown/Getty Images
Tell us what's wrong with this post? How could we improve it? :)
Let us improve this post!