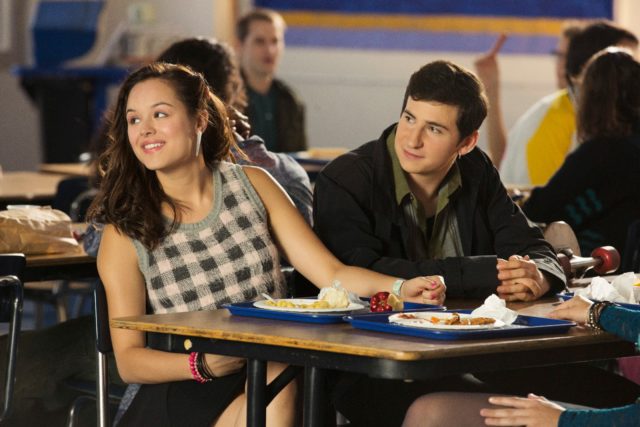 Who doesn't love a nostalgiac trip back to the 80s? That's exactly what The Goldbergs delivers, even down to the hairstyles and retro clothes they wear. Quite a few of us can relate to growing up in this era and viewers remember some of the best and worst times of their lives. If you haven't caught the show yet, we recommend that you give it a try. To give you a taste of what you'll find, here are the top 5 moments of The Goldbergs, season 4.
1. Beverly Lays Down the Rules for Jackie
https://www.youtube.com/watch?v=cmBJ-vZTYNU
It's a mom thing, but Beverly plays the situation up with hilarity as she talks to the slightly older, new love interest of her son in episode 19 of season 4. She begins with the two teens sitting on the couch in a friendly conversation that goes south quickly. Beverly asks her what her intentions towards Adam are but it gets better. After her rant about the dos and don'ts, Beverly pulls out new information that causes a fight between the couple.
2. The Goldbergs "Fonzie scheme"
Murray finally gains recognition for his efforts and is inducted into the Jenkintown top businessmen's club, complete with a wall plaque. When Beverly realizes that Murray has no real hobbies, she attempts to find a few suitable hobbies for him to pursue with hilarious results. As all of this is going on, Barry comes up with a scheme for stealing golf carts. His plan doesn't go the way he intends and Erica enters the scene to bail him out of the trouble that he's caused in episode 21 of the 4th season.
3. Erica and Evy Showdown
Erica battles with Evy for the attention and affection of Geoff. This moment in the show shows the quintessential scene where the two rivals confront one another. As with most teen dramas, the two lay all their cards on the table but with a twist. With controlled anger, the two mask their ire by touching one another's faces that would make those on the outside think they were the best of friends, but the reality couldn't be further from the truth.
4. Erica and Geoff Schwartz First Kiss
Who doesn't remember their first kiss? Episode 15 of season 4 brings back that excitement as Erica finally lets Geoff know about her feelings for him. This is one of the most tender moments of the season and followers who were rooting for Erica finally get their satisfaction.
5. Erica and Geoff Sneak Around
Episode 16 shows Erica and Geoff trying to rationalize what happened between them. They both acknowledge that Geoff and Evy are together, but Geoff decides to break up with Evy to be with Erica. He struggles with how to do it and puts it off, but the two can't stop seeing each other. This episode is filled with compromises and plans that fall through but the new pair keep seeing each other and sneaking around behind Evy's back in the meantime.
Final thoughts
If you haven't caught an episode of The Goldbergs yet, this is just a taste of what you're missing out on. A little bit of nostalgia can be a good thing and this show delivers in grand style. Take a trip back to the 1980s and relive some of the best moments of your life.
Tell us what's wrong with this post? How could we improve it? :)
Let us improve this post!