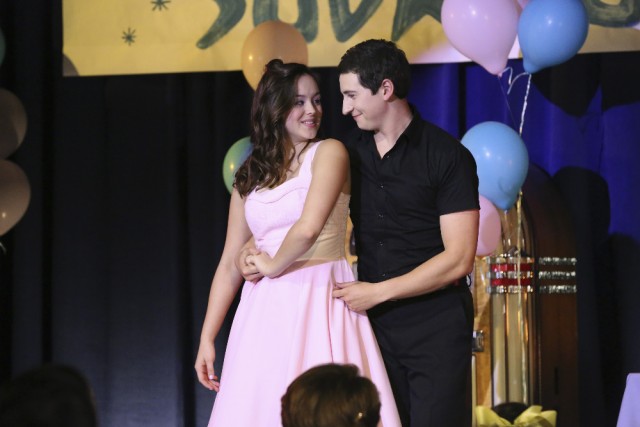 Some of my very favorite episodes of The Goldbergs are those that are high-concept and themed, so I've been waiting in anticipation for the Dirty Dancing- and Footloose-themed episode that finally aired tonight. Let's take a look at what happened in the episode, titled "The Dirty Dancing Dance."
The main story in the episode deals with the obsession that women in the 80s had with the movie Dirty Dancing, and it happens to be the one thing that brings Beverly and Erica together. When the school ends up still needing a theme for its upcoming dance, Erica realizes that Dirty Dancing would be the perfect theme and asks her mom to help her plan it. Barry is much more a Footloose fan, though, so he works to get the theme based around his dance film of choice. It doesn't really matter either way, though, because the school principal isn't going to allow a theme that would encourage dancing of that sort. Erica channels her mother in a big gesture and is able to convince the principal to change his mind, but Beverly finally understands the "dirty" part of the movie's title when the teens in her house show each other their moves. Our favorite smother gets the theme changed back again, but Erica overhears and becomes angrier than ever. In the end, Erica and Barry both bring their styles of dance to the, well, dance in one of the grandest moments in the history of The Goldbergs.
Also, JEFF AND ERICA HAD A MOMENT. What a treat.
Elsewhere, but still fitting with the main story, Beverly tries to convince Murray to join in on her love of dancing. He's not at all about it, though, leading to a fun speech by Pops in which he attempts to get his son-in-law to dance with his wife. After bringing out the photo album, Pops is able to sway Murray to dance, resulting in Adam and Barry both trying to teach their father how to impress Beverly (Adam through Dirty Dancing and Barry through Footloose). Neither son succeeds, so Murray uses Adam's camera to secretly figure out how to dance on his own, moving beyond his fear of movement. When they show up at the school dance to discipline Erica, Murray surprises his wife in a way that she never expected.
Concept episodes of The Goldbergs usually tend to succeed, and "The Dirty Dancing Dance" is no exception. The episode manages to use both of the movies that it homages in wonderful ways, and I think we can all agree that the final act of the episode is one of the series' best so far (and Barry's Footloose dancing in the gym? So. Good.). We also got a huge moment between Erica and Jeff, too, and that would make even a bad episode great. Luckily, this one was great to begin with.
What did you think of tonight's new episode of The Goldbergs? Let us know your thoughts in the comments down below!
[Photo Credit: ABC/Danny Feld]