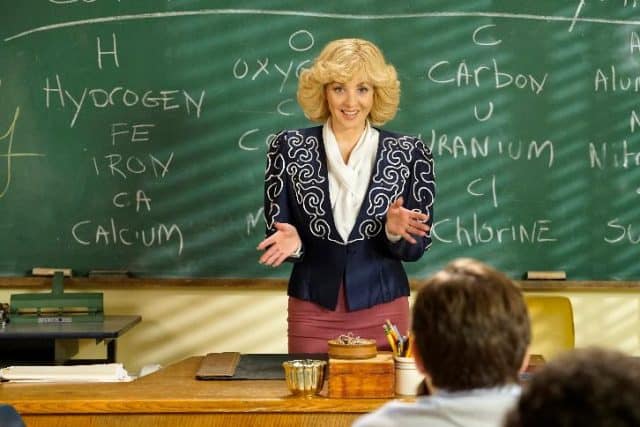 The holiday hiatus is finally over, and it's time for our favorite family to return to television. Let's take a look at what happened in the first episode of The Goldbergs for 2017, "O Captain! My Captain!"
The main story in the episode deals with Beverly's new career as a substitute teacher. She's never really known much as a sub, but her life changes drastically after finally seeing Dead Poets Society. Convinced that she can change her students' lives, she takes her lessons from the movie and translates them to the classroom. Unfortunately, not everyone agrees with Mrs. Goldberg's new methods, including her son. She's determined to unlock Barry's potential, though, and refuses to give up. Murray eventually sees how important it is for Barry to succeed in life, and he tries to manipulate his son in his own way in an attempt to inspire him. Set on teaching his mom a lesson, Barry ends up learning everything there is to know about chemistry in a short amount of time, but Murray's "inspiration" backfires when Barry tries to rub his success in his mother's face. Murray manages to fix the tension between Barry and his mother, something that Barry exemplifies with a very Goldberg-esque rendition of "O Captain! My Captain!"
Elsewhere, Adam and his best friend Emmy are both embarrassed by a note that's passed around about Emmy. A misunderstanding on Adam's part leads to a rift between him and his best friend, and Erica tries to teach him the better way to deal with freshman girls. Adam thinks that he can relate to Emmy's feelings with his own life challenges, but, of course, he just doesn't understand how much worse it is for his friend's changes than his own. He eventually realizes that he needs Erica's help badly, but she decides to teach Adam a lesson instead. The lesson ends up being that Emmy just needs someone to talk to and that Adam is supposed to be that person for her, something that Adam has to learn the hard way through gym class. Adam finally stands up for his friend after hearing some guys talking about her, repairing the friendship that he nearly ruined through his stupidity.
"O Captain! My Captain!" was a great episode of The Goldbergs that helped to ring 2017 in right. The relationships between the family members were on display perfectly, and and the overall story progression of the family (something that doesn't often sit in the open with this series) took some major leaps forward. Sometimes, it can be difficult to see when a comedy is firing on all cylinders because some aspect or another will overtake everything else, but this season of The Goldbergs is the perfect example of a comedy that does it all right.
What did you think of 2017's first episode of The Goldbergs? Let us know your thoughts in the comments down below!
[Photo Credit: ABC]
Tell us what's wrong with this post? How could we improve it? :)
Let us improve this post!