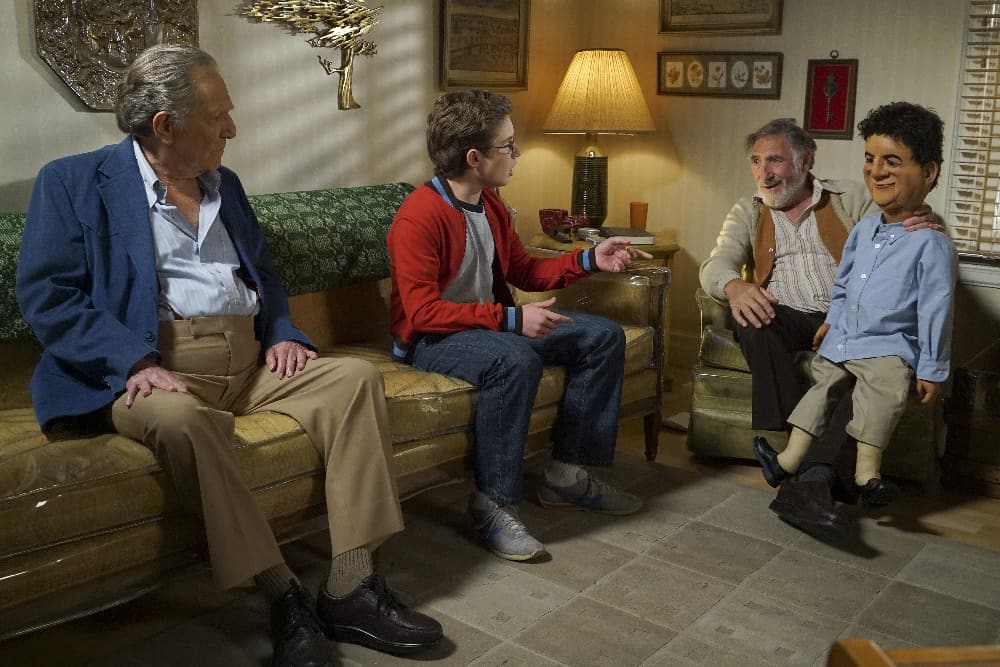 This upcoming Sunday is Mother's Day, and The Goldbergs is getting in on the action with another holiday-themed episode. Let's take a look at what happened as the gang celebrated Beverly's favorite holiday in this week's new episode, "Smother's Day."
The main story in "Smother's Day" has Adam, just like tons of kids in the 80s, becoming obsessed with Space Camp. Knowing that he'll be going into high school next year (and it won't be nearly as cool then as it is now), he is determined to convince his dad to pay for him to go over the summer. Despite a pretty impressive presentation, Murray, of course, doesn't want to pay. The only way that Adam can think to change his father's mind is by visiting Pop-Pop to get more insight into his dad's mind from someone that knew him as a kid. It turns out that the thing Murray wanted most as a kid was to be a ventriloquist, so Adam attempts to remind his father of his dreams. Murray still doesn't want to allow his kids to have unrealistic dreams, though, and he accidentally opens up to his son about the childhood that he had. After speaking with Pop-Pop again, though, Murray realizes that he wants to be a better father than he had and buys Adam a ticket to Space Camp.
Elsewhere in the episode, it's Mother's Day. Unfortunately for Barry and Erica (because we all know how Beverly can be), they, unlike Adam, forgot what day it is. They try to make up for forgetting by giving their mother some "huggie" and "snugglie wugglie" coupons, and Beverly, after saving up all of their coupons from over the years, decides to cash in alllllllllll of the coupons at once (essentially creating the titular Smother's Day). After deciding that they don't want to do anymore for their mother, the two kids trash the coupons. This forces an intense retaliation from Beverly as she revokes a lifetime of gifts from them (just as they did from her), and the kids try to win their mother back through song. The result is Beverly's expression that she only wants one day of appreciation during the year, and Erica and Barry realize how little respect they show their mother. After a terrible attempt at cooking breakfast for Beverly, the three make up and understand that they all care for one another.
"Smother's Day" was yet another one of The Goldbergs' patented wonderful holiday episodes, and it used the episode to present two very solid stories about how parents and children should try to respect and understand one another.
What did you think about "Smother's Day?" Let us know your thoughts in the comments down below, and be sure to check TVOvermind next Wednesday for our review of the season finale of The Goldbergs!
[Photo Credit: ABC/Byron Cohen]
The Goldbergs Season 3 Episode 23 Review: "Smother's Day"
Summary
"Smother's Day" was another great holiday episode of The Goldbergs that told two strong stories about respect and understanding.