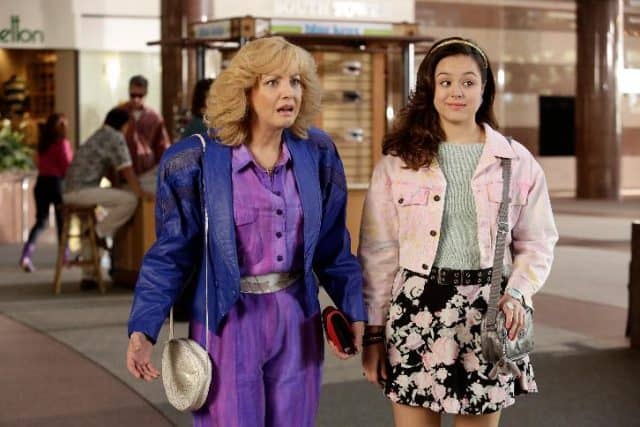 Even though I didn't review it, The Goldbergs had an absolutely phenomenal Halloween episode a couple of weeks ago that contained one of the best Geoff and Erica moments in the show's history. After that development, let's see how the show follows up with this week's new episode, "Recipe for Death II: Kiss the Cook."
The main story in the episode starts with Adam and Murray's shared love of 80's action movies, particularly those starring Arnold Schwarzenegger. Adam thinks that this mutual hobby is the "in" that he needs to get his dad to support one of his ideas, and he ends up being surprised by his dad's support. With $80 in hand, Adam sets out to make Recipe for Death. Murray's support ends up being way more than expected, and Barry gets tied into the adventure as well (but, thankfully, with no love scene). However, Adam realizes quickly that his dad is just a bit overzealous in this particular aspect of his life, and he does whatever he can to go behind Murray's back and do things his own way. As expected, this blow's up in the kid's face, and he's forced to deal wth the disappointment in his father's face. Adam finally realizes, though, that he loves having his dad's support, and the two make up in a heartwarming way.
Elsewhere, Erica is, like any typical 80's older sister, obsessed with fashion. In particular, she really, really wants a sweater dress. With no job, her only solution is to ask Beverly to take her shopping, wrapping Erica into a day of mom-time. The closing of her favorite store sends Beverly into a tizzy, though, and nothing with the sweater dress ends up working out the way that Erica wanted. Because of this, she decides to use her mom's own sweaters to make a sweater dress of her own. The result is a disaster that sees the destruction of Beverly's sweaters, and mom and daughter have a major falling out. Eventually, with the help of a trifecta of discounts, Erica brings her mother back around and everything turns out nicely for the two.
"Recipe for Death II: Kiss the Cook" is an episode full of heartwarming moments that gives us some great time between both Murray and Adam and Beverly and Erica. This has always been a show about family, and episodes like this, while not as "high-concept" as some of The Goldbergs' best ones, deliver exactly what is asked of them week in and week out.
What did you think of this week's new episode of The Goldbergs? Let us know your thoughts in the comments down below!
[Photo Credit: ABC]
The Goldbergs Season 4 Episode 6: "Recipe for Death II: Kiss the Cook"