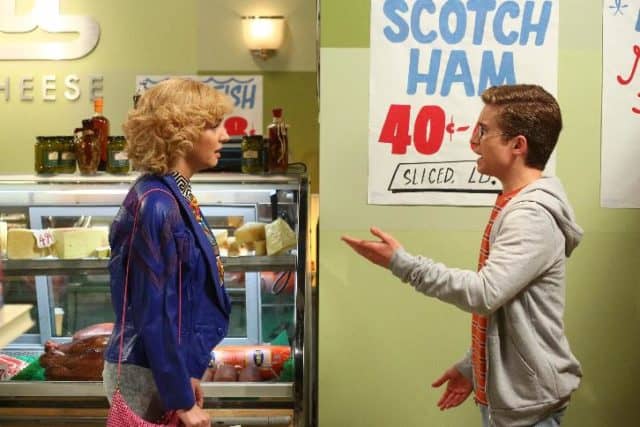 Sorry for missing last week! Life got in the way, and, while I watched the episode ("The Spencer's Gift"), I didn't have the chance to get a full review up. In short, though, last week's episode was a really fun episode that explored both jobs and mall life in the 80s. It was a super fun episode, and I've been excited for more ever since. Let's take a look at this wee's new episode of The Goldbergs, "So Swayze It's Crazy."
The main story this week deals with Adam deciding that he's ready to be famous after realizing that he knows an actor from A Christmas Story, and he puts together an acting reel to help kickstart his career. He asks Beverly to show the reel to her manager friend, and the result is that Adam does get management, but the manager thinks he's only appropriate for the "nerdy" roles. Beverly expresses her completely unrealistic view of her son, though, and ends up being Adam's manager herself. The first step? Headshots. They don't work out as planned, of course, but Beverly still sees them through her mom goggles and loves them ("He's Tom Cruise!"). Beverly shows the photos to the manager while she and Adam are at the deli, and Adam finds out that his mom lied to him about what roles he was intended for. The two get in a fight, and Adam reminds his mom that the most important thing is what he wants for himself, not what his mom wants for him. Eventually, though, Beverly is able to win back her son by admitting that he doesn't have to be a leading man.
Elsewhere in the episode, Barry tries to commit to the punk lifestyle after Lainey expresses her interest in the style. He does this by connecting with a kid from school named Matt, and Matt joins the JTP to help him out. Barry still isn't quite punk enough for Lainey, though, and she encourages her boyfriend to go even further. He ends up going a bit too far, though (he ends up looking like a pirate instead of punk), and it's up to Lainey to fix everything.
Also in "So Swayze It's Crazy," Murray and Erica realize that he knows absolutely nothing about his daughter's life these days. When Erica leaves the room, Pops tells Murray about the Geoff situation, and he tries to solve her love problem. Unfortunately, this solution is to tell Dave Kim (for some reason that I absolutely love) that Erica wants to be with him, and he expresses his love in front of everyone in the cafeteria (in the form of song), and it's through this that Erica finds out what Murray did. She confronts her dad at home, but he just doesn't understand what he did wrong. The result of all this, though, is that Murray realizes he needs to keep up with what's going on with his kids more, and he gets Pops to tell him everything about Erica. This new knowledge leads to Murray accidentally revealing how Erica feels about Geoff right in front of Geoff, and it results in a talk between Geoff and Erica.
In that talk, the two finally stop hiding their feelings from each other and listen to their hearts. FINALLY. Goodness gracious, I've been so invested in this storyline since the very beginning, and I'm so incredibly happy about the payoff we're getting now. What a great story.
Overall, "So Swayze It's Crazy" was a fantastic episode that finally gave the conclusion to a storyline that we've been waiting on for a long time. It's going to be incredibly fun to watch all of this play out, and I absolutely can't wait to see it.
What did you think of this week's new episode of The Goldbergs? Let us know your thoughts in the comments down below!
[Photo Credit: ABC]
The Goldbergs Season 4 Episode 15 Review: "So Swayze It's Crazy"
Summary
The Geoff/Erica story make a big turn in an overall fantastic episode of The Goldbergs.