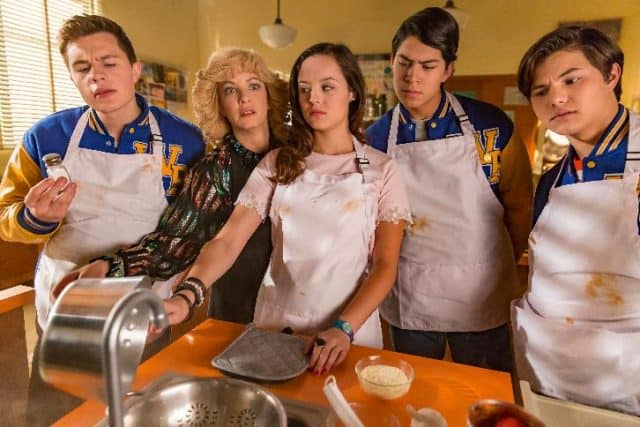 I will freely admit that my favorite musical ever is easily The Phantom of the Opera, so finding out that one of the best shows on television would be paying homage to that musical was a dream come true. Let's take a look at this week's themed episode, "The Greatest Musical Ever Written."
The episode opens with Adam deciding that he wants to join the school musical in order to find his place, but Barry doesn't want Adam's participation to ruin his reputation. However, Ms. Cinoman (a returning Ana Gasteyer!) changes the musical to the greatest musical ever written, The Phantom of the Opera, and Adam just can't help himself. After auditions, Lainey and Adam are cast as Christine and Raoul, and Barry starts worrying that his brother and girlfriend may end up in a "showmance" because of their roles as love interests. After some begging, Ms. Cinoman allows Barry to be a stagehand for the production, giving him a scary amount of access to the behind-the-scenes aspects of the show. He also vastly overestimates how big of a part he'll get to play among the cast and crew, though, and it intensifies the rivalry between brothers even more. To solve the problem, Barry sabotages the production by reporting it not having permission (which Lainey is oddly okay with), but Adam ends up making him feel guilty for ruining the one place in high school that he felt accepted. Barry apologizes in the end and explains himself, though, and the brothers make up in a nice way.
Also, can Dave Kim be the new Phantom until the end of time?
Meanwhile, Erica decides to plan the way that she's going to slack off for her final senior schedule in high school. The only hold-up to this plan, though, is Beverly's insistence that she take home ec before leaving school learn how to run a house. Erica thinks this will still be a way to goof off, but Beverly surprises her by becoming her substitute teacher for an indefinite period of time. There, she sets out to give the students (and her daughter) their biggest challenge of their lives. Erica takes the argument to the principal, though, and he confirms the class' status as a blow-off, breaking Beverly's motherly heart. Murray shows Erica just how much Beverly has done for her throughout her life, however, and Erica realizes how much her mother has worked and how much she still needs to learn from her. In the end, Erica blows off her blow-off year to finally learn from her mom.
In the end, everything works out for the Goldberg family (as it always should), and "The Greatest Musical Ever Written" ends up being a heartwarming episode that perfectly does justice to the material that it homages. Once again, the best family story on television outdoes itself.
What did you think of this week's The Phantom of the Opera tribute on The Goldbergs? Let us know your thoughts in the comments down below!
[Photo Credit: ABC]
Tell us what's wrong with this post? How could we improve it? :)
Let us improve this post!