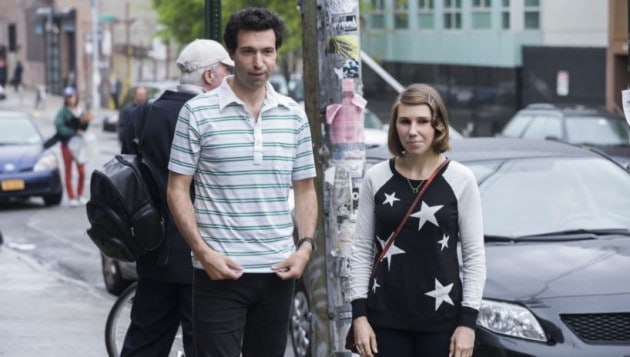 Following what had transpired in "Female Author," the previous episode of Girls, in which Shoshanna had aced a job interview and then proceeded to shoot herself in the foot, "Cubbies" opens with her at another interview, only this time around she is told that she is not a fitting candidate for the position. A surprised Shoshanna scrambles to make a case as to why she believes that she would be a good asset but is shot down at every turn. For reasons beyond me, and probably everyone else, she asks the interviewer for feedback, unleashing the woman to execute a verbal take down against her. In other words, Shoshanna is now waking up and smelling the rejection.
In the meantime, Jessa is listening to Marnie and Desi's demo. At first Jessa casually insults the track a few times, before simply stating, "You did it, you made a song." That's all Jessa says, but Marnie continues to ask for feedback, and the response she gets is that Jessa can't think of anything at the moment. Once again, it is hard to tell if Jessa is trying to hurt or protect. To Jessa and Marnie's relief, Shoshanna joins them and breaks the barely-there conversation by announcing that "the system is broken," which prefaced a very Shoshanna-esque diatribe. Jessa tells her, in her own way, not to care; it's Jessa, everything is BS to her. When Shosh complains that "nobody tells you how bad it's going to be in the real world," Marnie responds that everyone says that. She also answers Shoshanna's question as to why the interviewers can judge: "They've got the job." There is very interesting contrast in the scene; at the same time, it is hard not to wonder why Shoshanna has not suspected that getting a job was going to be difficult. Her two friends sitting next to her have had trouble in what she calls "the real world"; did she think she was above them? Or was she never paying attention?
Marnie asks Shoshanna to listen to her demo, which leads to her friend expressing that she and Desi created the perfect song, defining "perfect" as the kind you hate at first and then love after it's played over and over and shoved into your brain. Marnie, understandably, gets frustrated with the feedback and says she needs Hannah because she is a creative person. Shosh retorts that her feedback was spot on.
Back in Iowa, a sequence of Hannah moments indicates what everyone saw coming one way or the other: Hannah is not happy. She tries to write, but smashes drafts, attempts to sleep with no luck, reads while in the bathroom, and her expression says it all; her eyes prove she is half bored, half questioning what she is doing there.
Ray, who had complained about a light not working and causing a mess in traffic, hears people honking incessantly outside his window, and the sound enrages him so much that he rushes out tries to reason with the drivers. All he gets for his efforts is people flipping him off and more honking, which causes him to actually scream at the individuals inside the vehicles, while he bangs on the car themselves. Ray looked deranged; at the same time, he evoked a present-day Don Quixote. The cars act as his windmills, of course.
Hannah, who had previously put a conspicuous piece of paper inside different cubbies, is in her Writers' Workshop, where her letter to the class is addressed. Ms. Horvath tries to apologize to everyone about her harsh words, during the Poets' Party; however, her letter is not taken the way she intended to, as a result, she gets defensive. Once again, she accuses her fellow writers of being negative and blames them for her writer's block. In turn, she is also told that her apology does not sound like one and is accused of violating the cubbies, which are meant for art sharing. It is clear that Hannah and the writers have reached a standstill. And it's everyone against Hannah.
Ray continues to unleash his anger at cars until he sees that Shoshanna is staring at him. He stops his Don Quixote performance and walks towards her, who says she was in the neighborhood. When he calls her out about this not being her neighborhood, she just offers to join him doing errands. It's a sweet little moment that brightens the episode.
Hannah is asked to stay after the class is over, and her professor tells her that she seems unhappy. She points out that, in her view, academia is clearly challenging for Hannah; she also remarks that Iowa is a specific place for a specific kind of writer, not just for everyone. Hannah asks if she is being kicked out, saying that is what she thinks is happening, and yet the professor tells her that she'd have to be very violent to be expelled. Hannah admits that for a moment she believed she was going to be sent packing and that notion made her temporarily happy. This was one of my favorite scenes; it was bittersweet and brutal at the same time, but also very realistic and easy to relate to.
Later that night, Hannah and her dad have dinner and she confesses to him the truth: she feels trapped. Mr. Horvath responds that she has to do what's right for her, pointing out that sometimes the stupidest decisions are for her. It was a perfect father-daughter moment.
After a lot of awkwardness and Marnie announcing she had moved on, Desi knocks relentlessly on Marnie's door. She gets out of bed and lets him in, only to see him an emotional wreck. He announces that he broke up with Clementine. Between a few kisses and a lot of crying, Desi blurts out that Clem told him she was thinking about someone else, which made Desi believe she was already cheating on him. He then ended their relationship. Marnie realizes that the only reason he is there and has parted ways with his official girlfriend is because he was convinced she was going to sump him anyways. She declares it a preemptive break up. However, Desi tells her that he loves her and gets away with it.
Back in Iowa, Hannah is doing nothing once again. Then, just like that, she is in a cab heading back to New York. I wanted to high-five her.
Hannah enters her former building, then puts the key in the door of the apartment she and Adam shared, but someone opens the door before she can do anything. She is facing an unknown blonde girl who asks her if she can help her with anything. Mimi Rose introduces herself and asks Hannah if she is in fact, herself. Then Adam emerges from his room and the two share a stiff hug. Hannah notices that her couch and TV are gone, and she then she asks if Mimi is Adam's roommate. They all share a look. This moment seems to be a little bit agonizing for all of them.
"Cubbies" had a very nice pace and integrated every character. It was very enjoyable, and it had several breadcrumbs signaling what it is to come. At the same time, this episode had a lot of heartbreak and painful realizations, the kind that make people go forward or get stuck in emotional pain forever. I am looking forward to see who chooses which.
Highlights:
– As uncomfortable as it was to watch Marnie and Desi singing in her apartment. Her putting her feet down and affirming that she has moved on, while shutting down Desi's intention to talk, shows growth and bravery. I enjoy a Marnie that stops making puppy eyes at a taken man and sticks to her guns even when it is tempting to let Desi seduce her again. Alison Williams simply killed it.
– Shosh and Ray trying to get t-shirts for him was not only hilarious to watch, but it rang as a very honest shared moment between the two. That stated said, Shoshanna's speech letting him know that the reason they did not work as a couple was that she was scared and unprepared was beautiful. Finally, she is being humbled by life.
[Photo via HBO]