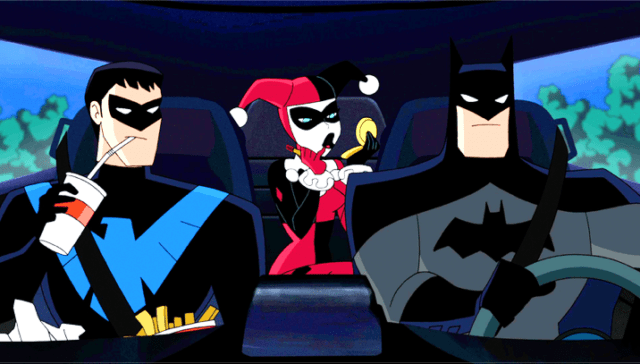 If you've ever wanted to see an animated movie featuring Harley Quinn and Batman then you're in luck. Included in next month's release of Teen Titans: The Judas Contract, there is a Batman and Harley Quinn sneak peek featuring footage from the next DC Universe Original Movie and revealing the talented creators and voice cast bringing it to life. According to Comic Book
The image itself features Batman, Harley Quinn, and Nightwing in the Batmobile. Nightwing must've worked up quite the appetite as he is shown enjoying a fast-food meal in the passenger seat. He's slurping up a delicious beverage with a straw and has a burger wrapper and french fries sitting on his lap. Harley Quinn is in the backseat, using a gold pocket mirror to touch up her makeup. Batman is in the driver's seat, wearing a seatbelt…like a boss, and staying focused on the road.
As far as the rest of the plot we're not 100% sure. But I have to say I'm already digging this. Why? Because Superheroes doing "everything things" has always been a favorite of mine. Maybe there will be a time when we get to see this type of stuff in a featured film (the only time we ever saw a Superhero become "normal" was in Superman III when he got drunk which made no sense whatsoever. Superman is Superman. The dude can move buildings and see through stuff. Now alcohol is his new kryptonite?).
Once there are more plot details we'll keep you posted.
Here's the preview for Teen Titans in case you're interested.