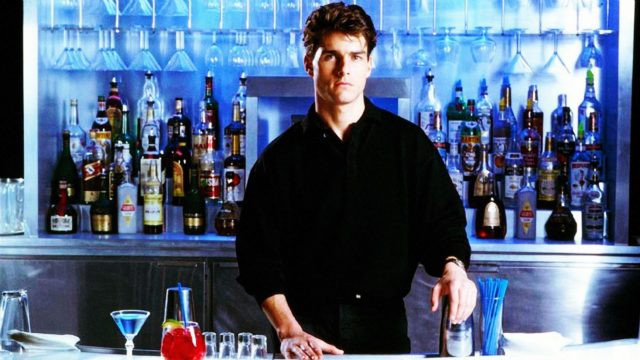 The things movies get wrong about bartenders could fill a book. They're the people that can help you out with that particularly nasty problem of being sober when you want to get good and buzzed, hammered, or otherwise intoxicated until all your problems seem to float away for a little while. Of course your problems come back eventually, but that's not the bartender's fault. They're simply there to serve you whatever you want until you get so tipsy that they legally have to cut you off. In fact they can cut you off without really having a reason, especially if you don't adhere to the rules that they have to work under. Helpful suggestion to any bar patron, don't believe half of what you see in the movies. A lot of it will get you bounced from a bar quicker than you can raise your glass for another.
Being a bartender is great, but in the movies it gets a little out there.
5. Bartenders are all friendly.
If you want cheerful bartenders then you'd best pick your bars very carefully. They're there to pour drinks, make sure the business runs smoothly, and eventually get tipped and paid. Bartenders are nice if the customers are nice, but don't count on them to be the upstanding cheer squad simply because you're ordering a drink. Slip them a twenty dollar tip and you might see a smile, otherwise order, drink, and be glad to get it.
4. Bartenders are all concerned about every customer.
Bartenders might be there to serve you and be courteous and all that junk in order to keep you drinking, but the moment you're difficult in any way is the moment their smile tends to fade. Keep in mind that they control how much alcohol you receive and if you give them flak then they tend to reserve the right to have the bouncers, who are usually less pleasant, to 86 your troublesome self.
3. Bartenders drink with their customers.
No, no, and NO. This does happen on occasion but by no means is it SUPPOSED to happen. Think about it this way, if a bartender was allowed to drink behind the bar and match their customers shot for shot or drink for drink the likelihood that a bar would stay in business for long would be next to nothing. A drunken bartender doesn't usually worry about serving their customers that much.
2. All bartenders are showmen.
There are bars where this is the norm and the show is incredible, but take into account how many different shapes there are when it comes to booze bottles. Plus, you really don't want a bartender doing this if all you asked for was a bottle of beer or a shot. If you want showmanship then find a bar that specializes in mixed drinks and has someone that can do this stuff, otherwise you're kind of out of luck.
1. Bartenders let customers do what they want.
Once again, NO. This is the kind of thing that could get a bar shut down and is one of the many things that bartenders are supposed to ward against so that it doesn't happen. Anytime a patron gets injured or too intoxicated in a bar their license and their reputation is on the line. So once again, NO.
Bartenders are there to make sure you have a good time. Do what you can to make their lives at least somewhat simple.