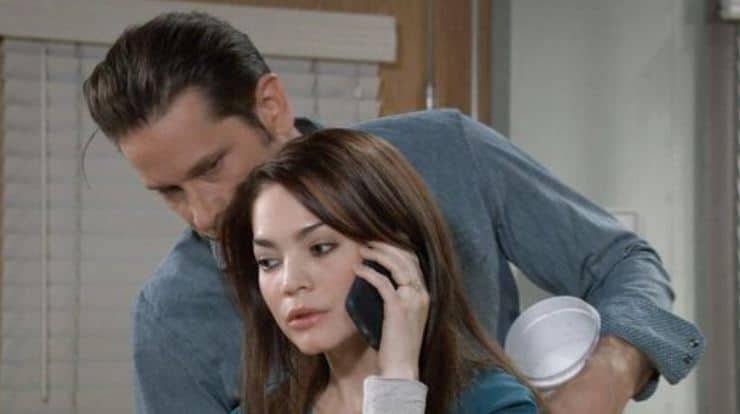 General Hospital fans aren't sure that Ryan will get caught as soon as we would like to see him caught, but there is nothing we can do about that. He's making a lot of trouble for a lot of people, and we cannot do much more than sit back and wonder how this will work and what it means for those who are going to have something to say about his situation. He's put Franco in a situation that is not easy to deal with or handle, and that is his plan. He knows more about Franco and what is going on in his life than he should not that he's counseled him, and he will use this to his advantage. We hate that, but it's already happening. He's a man of many talents and one of those talents is making people miserable and ruining their lives in the most awful way possible. We can only hope Franco can come out of this on top,
Meanwhile, we saw Ava shocked. She's not easily stunned, but when she is, it is priceless. She's not sure what to do or how to do it, but she's got to make a choice now. Will she make the right choice, or will she continue to ignore things that she knows aren't good? Will she make the decision to help now that she knows what she does, or will she ignore it and leave it be because it's just not really all that much her concern? We don't know, but she's got very little time to make that decision. And, we know that Sonny has decided to open up to Alexis about what he is worried about, and she's there to listen. They might not be a couple, but they are friendly enough he can go to the mother of his daughter with these things.
What's Happening on General Hospital
LAST CALL: The Best of Sonny & Carly Collection is preparing to go back into the #GH Vault! Binge all 20, classic episodes now, before it's too late. #GH55
CLICK TO WATCH: https://t.co/Zqb3qcVkMy #GH55 pic.twitter.com/sz13Yeesna

— General Hospital (@GeneralHospital) February 6, 2019
You heard it here…last call. If you have not checked this out yet, you are about to miss your chance. Here you go.
What's Next on General Hospital
"And when I'm done suing you, I will own Port Charles!" #GH55 pic.twitter.com/fJ5jtxiSKf

— General Hospital (@GeneralHospital) February 7, 2019
Spinelli has something to share with Jason, and it has a lot to do with all he's been finding as of late. There is a lot going on we don't really understand in the full context of what is going on in life, but there is a lot happening that might make more sense if it was the full story. They have so many things going on right now, though, that it is almost difficult to figure out all that's real and all that is not. For now, though, we thought we might sit back and allow ourselves a moment to enjoy what he has to share. With all that Franco is focused on, Liz finds herself in a situation that might not be as pleasant for her as she might hope. She's in a situation, but she's leaning on another man in the meantime. We aren't thrilled with this development, to be honest.
She's found some consolation in all that she can find in Scott, and we think Franco would not be a big fan of this if he saw it coming. But, for now, we do hope that she's able to get her life together at least enough to make things work in a positive light. She's leaning too hard on a man who is not the man she's meant to be with, and we know how that goes. It's bad news for everyone involved, but we also know that won't stop her when she's got the change to change what's happening in her own life. Will she make a better situation?
Stay tuned for more General Hospital and be sure to check out TVOvermind daily for the latest General Hospital spoilers, news, and updates.