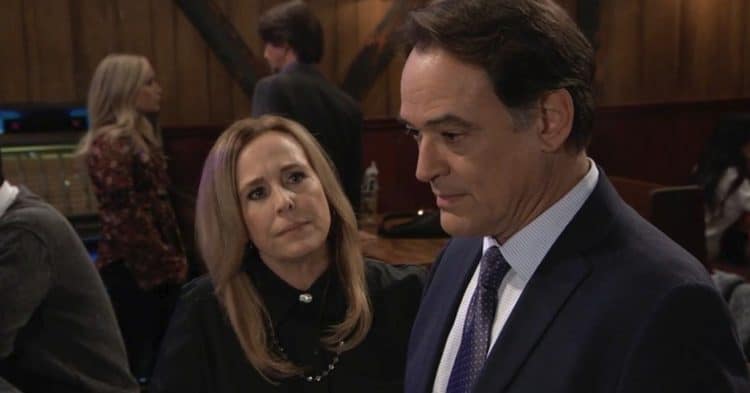 General Hospital fans are tired of waiting for answers, but maybe we will get some sooner than we think. Lulu is sharing information all over town in hopes that she can figure out what is going on. Her latest bout of sharing came in the form of Peter. She shared with him what she found out when she had a conversation with Margaux, and that might mean something more to him. She might not understand all of what is going on, but she's been able to start piecing things together in a way that will allow her to make amends in some way that will help her with her situation. She's not going to see things change much if she's not out there trying to make them change, which is what she's going for at this point. Sharing might be exactly what she needs to be doing at this point in her life to make sure things get done.
Furthermore, Anna is getting a second chance to make things right. Will she take advantage of that in her life right now, or will she find that she's going to need more help in that aspect of things? She's not making much sense in terms of what is going on otherwise, but she's making it her mission in life to find out what she needs to find out so that we can all move on from this. Our favorite part, however, was the moment Liz was given some good news. She needs it so badly. She's been in such a dark place for such a long time, and she's never the woman who gets good news or things that really do work out for her. She's a mess, and her life is often one and the same in terms of a train wreck.
What's Happening on General Hospital
WATCH: Elizabeth and Drew address the court, in the hope it'll help Cameron avoid a permanent stain on his record. @RebeccaLHerbst #BillyMiller #GH55 pic.twitter.com/TOnLXBKVwX

— General Hospital (@GeneralHospital) January 10, 2019
What's Next on General Hospital
"I need a doctor!" #GH55 pic.twitter.com/f8JMXIWqnn

— General Hospital (@GeneralHospital) January 8, 2019
Ava is the kind of woman who doesn't usually find herself afraid of people, but things are changing. It seems that Franco is going to startle her in a major way, and part of us wonders if this is because she's been making so many poor choices in her life as of late. For example, is she startled simply because she's afraid after what happened to Kiki? Or is she startled because there is something going on she's not interested in having people find out? We don't know for certain how he's going to handle her life when she picks up the pieces she's had taken away from her, but we think that she might start with a few people she knows. She might not know what Franco wants — and neither do we right now — but whatever it was made her nervous.
Peter is looking to help Anna. Despite all that's happened between them in the past year, he's looking to be there for her and to try and make things right in some way if he can. He's excited about all the things that might work for him, but what about what is going to work for everyone else? We are not entirely certain if there is something else going on, but he's there for her at the moment. And then there is Griffin, who will run into Sonny. We don't know, yet, how this encounter will end, but we do know that he has to work hard to keep himself together these days. And Sonny is not a friend to most.
Stay tuned for more General Hospital and be sure to check out TVOvermind daily for the latest General Hospital spoilers, news, and updates.