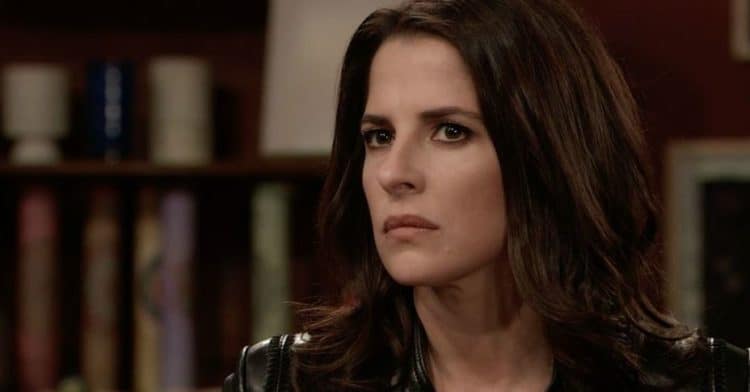 General Hospital fans are not happy to see that Sam still has some unfinished business, but we are very excited to see her spend the night with Jason. His life is so much more complete with her in it, and the same is true for her. They need one another, and the fact that they were able to spend this life together and this time together is too much for us. We loved every second of it, and it is all we can think about at this point in time. They are a thing. The kind of thing that needs to be real all the time. They are perfect for one another, and they are amazing. We need them to be with one another. It's all we can think about and all we can function thinking about. We love it, and we love them. They are all that we love the most.
Furthermore, we also saw Laura ask for a bit of privacy. Things aren't going well for her at the moment, and her life is falling together in some ways and apart in other ways. She needs this time to be with herself and not have everyone in her grill. She also needs to process what is happening and consider what she needs to do in the future. She's been hurt before, but this is a whole different level of awful in her mind. She's in need of privacy, and we are all happy she had the forethought to ask for it when it was needed. She's better for it. And then there is Ryan, who will do things his way no matter what. He won't let his vision get in the way of what he feels is his mission — which means Carly needs to be scared. She's next. We can feel it.
What's Happening on General Hospital
#ManCrushMonday: Two peas in a pod. 👶🏼@duelly87 #MCM #GH55 #BehindTheScenes pic.twitter.com/1cX1PHdbKP

— General Hospital (@GeneralHospital) January 28, 2019
Aren't they just the cutest duo you've seen all day?
What's Next on General Hospital
He's not finished. #GH55 pic.twitter.com/6eXenFthG7

— General Hospital (@GeneralHospital) January 28, 2019
Things are not going well for Laura. She's asked for some privacy, and everyone is giving it to her. But, she's feeling alone and desperate and unsure what to do with herself. She's got this man who is her husband who seems to have lost his vision but also has pushed her completely out of his life in the moment. He's left her high and dry and refuses to kick Ava out of his room, and she's beside herself. She's not sure what is going on at the moment, but she's got to figure this out sooner rather than later, right? She has to know this man is not her husband, and we are more than a little shocked she's not aware of this yet. It's not good news, but we have to wonder if there is anything that will help with her desperation.
And then there is Ava, who is not sure what the future holds for her in Port Charles. She feels that everyone hates her — she is not wrong about that — but she's not sure she can stay here. She will not make many friends in the future, and she's never made any in the past. She wants to be with Ryan, but she's not sure she can do that here and in this life, which means she might be plotting herself an exit route. Does this mean she will actually leave, and does this have anything to do with a potential story that involves Kevin being found and everyone realizing what is going on? Maybe, but we will find out.
Stay tuned for more General Hospital and be sure to check out TVOvermind daily for the latest General Hospital spoilers, news, and updates.