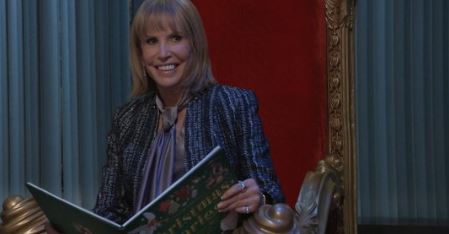 General Hospital fans aren't all that surprised that Kevin was graced with an unwanted visitor. Mostly because we told you he would be, but also because that's just the way his life is going these days. His brother has all but taken over his life completely, changed it all around, and ruined it for him. He's a mess, and his life is a mess, and he's not making much sense of anything at the moment. He's in a bad place, and that means that things will not work out for him if someone doesn't realize right now what is going on in his life. It's been a tragic moment with so much going on, and we cannot even figure out what to do, how to do it, and what might happen around here. He's in a bad place, and it's not getting better for him at the moment. For now, though we just sit back and watch this mess continue to unfold.
Then there is Laura, who is looking to see if there is any way that Felicia can help her. She's managed to make a mess of her own life, too, and she's confused. She knows there is something wrong and that there is something going on, but she's not got a clue how to change it, fix it, or make it right. She's struggling in her own right, and this is not helping her. Can Felicia help her figure out what is going on with her husband and in her life, and what will she do with that information that Lulu brought to her? Will she be able to use that to get what she wants from life, or will she be upset about all of it or any of it? It's been kind of a disaster, and that's not something we can ignore.
What's Happening on General Hospital
#ICYMI: @lldubs & @MauriceBenard sat down with @MichaelFairmanfor a wide-ranging chat that #CarSon fans can't afford to miss: https://t.co/PwZrvOnc0a #GH55

— General Hospital (@GeneralHospital) December 23, 2018
We love things like this, so you could check it out and love it to. We love all things CarSon, and they aren't having a good time right now. So maybe this will make us all feel a little bit better.
What's Next on General Hospital
"3, 2, 1… Happy New Year!" 🍾🍾🍾#GH55 pic.twitter.com/lxzBGzU2gS

— General Hospital (@GeneralHospital) December 26, 2018
Michael is making moves in his own life, and one of those moves is making sure he's able to get his life together in a way that makes it seem like things are better for him. He's about to attend a charity gala, and we hope that he has a nice night. He might, but we don't know that he will make that effort to do it. What we might consider, however, is that his past will come back to haunt him in some way, shape or form. Willow has finally agreed to go on a date with Chase, and that might end up being something exciting, too. We don't know how it might work for them, but we do know there is a chance that they might be able to get their situation under control in some way. There's a chance that they might have something going for them, but at what cost to them?
Kim is sitting back and wondering what will happen in her life. She's got a chance to look back at the past and wonder how that will go, what that will mean to her, and how she can change her life. She's got a lot going on, and looking back at how her life has changed and what she has done to make it that way has been an eye opener for her. And that's been something she's had to deal with in a way that will make her feel worse about herself right now. Can she overcome what she's managed to do?
Stay tuned for more General Hospital and be sure to check out TVOvermind daily for the latest General Hospital spoilers, news, and updates.
Tell us what's wrong with this post? How could we improve it? :)
Let us improve this post!