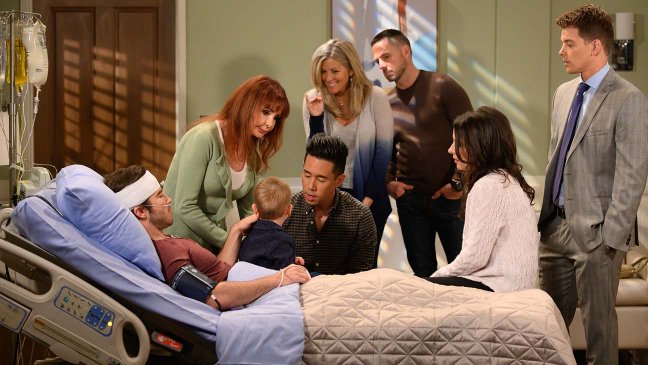 General Hospital fans are taken back to 2017 again today as we get to see yet another day of the Nurses Ball from that year. It's a day when things are taking a turn for the worse — for Ava, that is. We all remember the issue she had that year at the ball. She'd been guilty of doing something that took a life. She was the woman who switched out Morgan Corinthos' medication for false medication and it caused a riot. He died as a result, and things were a total mess from that point forward. We cannot say it enough, but the day that Sonny found out this is what happened and she was to blame was the day her life changed forever. She was wrong, and she knows darn well she was wrong. He found out, and he shared that with Carly. Nina decided she'd be willing to take Valentin back, and Anna tells Jason that the biotoxic, Chimera, is on the loose somewhere at the ball and they must find it. Jake sees Helena in his imagination, and it was one heck of a day. So, lets go ahead and take a look back at what happened with Morgan, Ava, and his family.
He's the First Born
Sonny and Carly have been married a long time, and they have a lot of kids, but Morgan is the one that they had, together, before anyone else. Many of their children are with other people, so Morgan was their firstborn child together, and his story is a tragic one.
His Girlfriend
It was 2013. It was just after a SORAS when Michael found his brother living in New York City. He was living, at the time, with his girlfriend, Kiki. We all know and love Kiki, may she rest in peace. However, they were also living with his mother, Ava. When Michael found him, things in all of their lives changed as they moved to Port Charles.
Of course, Kiki and Michael had a lot of sexual tension, and it did not go unnoticed by Morgan. It wasn't long, however, when everyone and their mother found out that Kiki and Michael were actually related by blood as cousins, and Morgan felt so much better. He and Kiki moved out of that place and into their own. It was better for a while. But, that's when things got a little bit uglier when everyone finds out that Michael and Kiki are really not related after all of that. He married Kiki.
The Trouble Begins
It was at the wedding that everyone found out the truth about Kiki, which shocked them all. That she was not related to Michael. However, the real shocker was when they all found out that Morgan already knew this and chose to say nothing to anyone but his own father. Things did not go well for himself and Kiki, and that's when Morgan began sleeping with Ava — his girlfriend's mother — the enemy. Needless to say, this caused more than a few problems for Kiki and her mother.
When he moved in with Ava, things got ugly. That's when he learned that Ava and Julian were working to overthrow Sonny and his mob, and Morgan decided he was just upset enough at his own family to help them out while he could. This was ugly stuff, and it wasn't something that anyone was happy about. He eventually realized his ways were bad ones, but it was too late.
His Bipolar Disorder
All that went on in his life was hard on Morgan, and he was later diagnosed with Bipolar disorder. He was treated, and it was working well. However, he began to want to be with Kiki, again, but that upset Ava more than just about anything. This situation was hard on all of them, but it was hard on Ava more than anyone. She switched out his meds to keep him from her daughter, and that's when things got ugly. He stole Julian's car during a horrible episode of maniacal behavior, and there was a bomb in the car. He was instantly killed, and the entire Corinthos family was devastated.