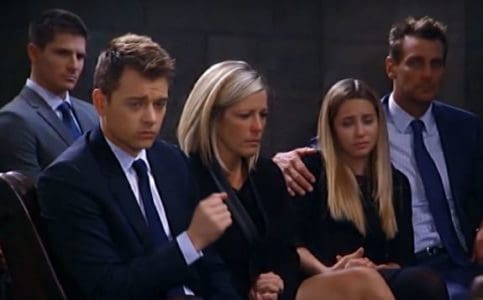 General Hospital fans know that Carly is a mean woman when she wants something in her life. She's taking her anger out on Sonny right now for a myriad of different things, and it's not working out well for him. He's got so much on his own plate right now he can't even function, and she's not making it any easier on him. She's, in fact, making it next to impossible for him to do what he needs to do in his own life. She's made in nearly impossible for him to find peace following the death of their son, and now she's making it even more impossible for him due to the fact that she's working on taking him down herself.
She's relentless and mean, and she's got a very dirty plan in mind. She's going to hurt him where she knows it will take him down the most, and we don't like her plan. She's going to use the kids to hurt him. His own children, and he's not going to be happy about it. The man already lost his own son this year, and all he's doing is working on finding out what happened to Morgan. For Carly to pit the kids against him right now as a form of revenge is ugly, dirty, and mean — even for her.
What's your take on Carly taking the kids from Sonny and making them hate him? She's going to do something treacherous and mean, and she's not going to care who it hurts. She only cares that it hurts Sonny, but she doesn't seem to care at all that she's going to hurt the kids in the process. This is how we know she's breaking down more than ever, because she's using the kids. Now we sit back and wonder how far she has to push Sonny before he turns around and pushes back. He is a man who loves his kids, and seeing what she's doing to them might not make him feel like being very nice to her anymore.