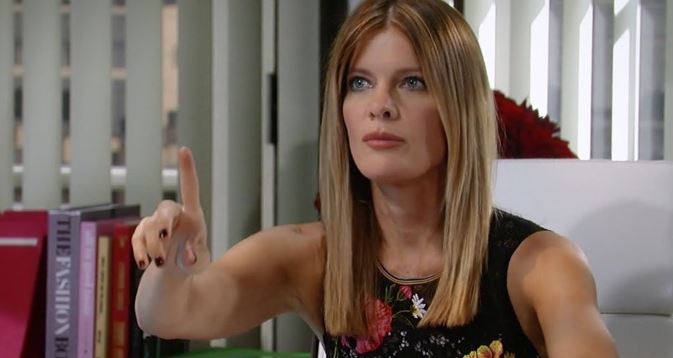 General Hospital fans know that there is a lot going on right now, and much of that has to do with the fact that the show is being pre-empted with old episodes for almost a week. Since there is nothing to recap and nothing to do in terms of telling you what you can expect on the next episode, we thought we might bring you a few interesting storylines and let you learn a little bit of a backstory on what is going on in the lives of characters right now. We are starting with Nina. We all know she's got some serious drama in her life, and things have never really worked out for her. She's in a bad place, there is something going on, and we want to run you through a quick history of her life so you understand her situation right now.
The Early Days
To give you an idea of what we are working with in terms of Nina and their situation, there is a lot you need to know about her. First, she showed up in 2014 after being in a coma for 20 years. She was with a man by the name of Silas many years ago. He cheated on her with Ava Jerome, who gave birth to Kiki when she got pregnant with him while he was with Nina. Nina was pregnant at the same time, but her mother overdosed her on drugs, which caused her to miscarry her baby and it caused her to slip into her very long coma.
Nina's mother told everyone she died after many years, but she told Nathan the truth. Nathan, who is married to Maxie and passed away earlier this year, found his sister and vowed to find revenge on Silas, who everyone thought put his adopted sister in a coma all those years before. It wasn't Silas who did it, however. It was her own mother. Madeline was long gone — but she's back now – and Nina has been unable to have a child. Spending 20 years in a coma is a long time to miss out on life and all it has to offer.
She was crushed her baby did not make it, she's been unable to have a baby since, and all she's ever wanted is to be a mother. She's very close to her deceased brother and the baby that he is having with Maxie, and she's been in a bad place emotionally with her husband, Valentin. They married in 2016, and she gained a stepdaughter from the marriage.
What's Happening Now
Now, it turns out that there is a lot more going on than we even know. Nina's baby was never dead. She did not have a miscarriage and not have that baby. The secret is out, and there is a big problem. She wants her daughter. There is a little girl out there somewhere who belongs to her, who is her daughter, and who she wants to find. And she will find the little girl her mother gave away while she was in a coma thanks to her horrible behavior and her effort to get her away from Silas.
Valentin visited with Madeline, and he found out that she had that baby, and that her mother gave the baby away. And now he is determined to find out which young woman running around Port Charles might belong to his wife. And he will find that little girl. There is a lot of speculation right now, but this should help you make sense of what is going on, what Madeline wants with everyone, and why she is back in the picture all of a sudden. If Valentin can find this baby, he can probably get his wife back and have his family.
Is it Ava? Is there a chance that Ava's daughter, Kiki, is really Nina's baby? Perhaps Ava's baby died, and Madeline gave her the baby. It might explain their harsh relationship. Is it Avery? She's been around for a while now, and she's someone people like — but she has no ties to the show if they don't give her this role. We don't know, but we can only hope, right?