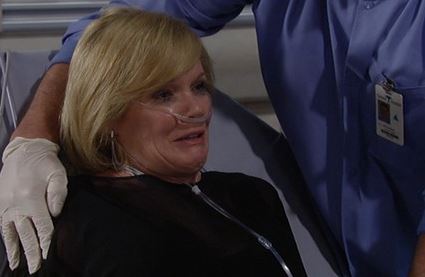 General Hospital spoilers tell us Ava is going to be just fine. Well, her health is going to be just fine. She's got a lot of legal trouble ahead of her as the police now know she is the one who stole the medication that Morgan Corinthos used regularly and replaced it with medication that isn't his. It was a dangerous move and it put into place a number of issues people just aren't happy with. Can they get over what is going on now, or will she go to jail and never return?
Valentin is better, and he's ready to leave. He improved very quickly, but that's the soaps for you. He doesn't want to stick around and lay in a bed any longer. When he finds out that he has to be arrested for what he did — Anna will tell him that she was given direct orders to arrest him — he's not happy. He has to get out. We know already he's going to take Charlotte with him and run, but where will he go, and will Nina work on getting her back?
Lulu has the girl right now in her care, but it turns out Valentin is going to show up and spin a pretty tale for her. She will feel very, very stupid when she finds out he lied to her to get their daughter to go with him, and she will not be very happy that her little girl was removed from her life. If Nina is mad, just wait and find out what Lulu thinks when her daughter is taken from her. This ought to be quite interesting as time goes on.