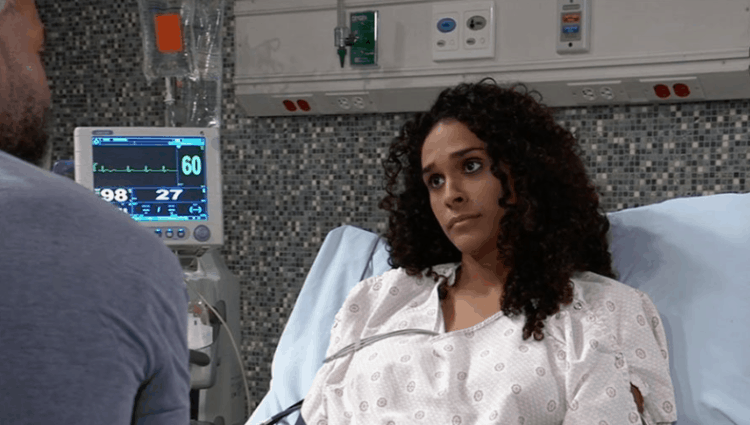 General Hospital fans are just sitting around wondering how many people will ever be okay in Port Charles again. We know that there is some improvement in Kristina, and that Alexis is overjoyed at finding out her own daughter is making progress and will likely end up being all right. She's so happy after spending so many months worried, hurting, and upset for this girl. Her daughter made some poor choices during a very dark time in her life, and it's not a surprise. She has a mother who is a high-powered attorney, and her father is a mob boss. It's not like she had the girl-next-door upbringing or the happy home life as a child. She was looking for something she was missing, and we wonder if her parents realize that is what happened to their little girl. That at some point in her life, they failed her enough to make her feel she needed to go out and find a family of her own to love her, support her, and care for her.
Then there is the fact that we have to deal with Michael, who still doesn't know that his son is alive and well. No matter what happens to Nelle, she will always find a horrible way to come back and get him to fall to pieces from wherever she is. She's a horrible person, and she did this to him without his knowledge. Now his little boy is being raised by a man who is part of this horrible cult who is tearing everyone apart, and there is nothing he can do because he doesn't even know. We just want to find out when and how he will find out, and we want to know it will be sooner rather than later. Knowing this information hurts us.
What's Happening on General Hospital
With the 2019 Nurses Ball right around the corner, prepare for the festivities with "The General Hospital Collection: Best of The Nurses Ball!" Relive 16 of the most epic episodes (from 2014 onward) right now, without a login! CLICK TO WATCH: https://t.co/Epq9a1OoUZ #GH pic.twitter.com/DX4YwVDiNY

— General Hospital (@GeneralHospital) May 6, 2019
We get the distinct impression this might be entertaining.
What's Next on General Hospital
WATCH: Willow recounts her time at Dawn of Day and the horrific abuse she suffered at Shiloh's hands. #KatelynMacMullen @_lexiainsworth @NancyLeeGrahn @MauriceBenard #JoeFlanigan #GH pic.twitter.com/21KYVMZakg

— General Hospital (@GeneralHospital) May 7, 2019
Sam has some concerns, but they might not be what you think. She's got some of them to share with many people, and she might have a few that don't have anything to do with what she wants people to know. Is she developing some real feelings for Shiloh as she works closely with him to trick him into believing her? We cannot believe that she is, but she's worried. And she's worried for many things. She's putting herself so deep into this cover that it would be unnatural for her to feel nothing for him given how she is behaving and what she is being forced to do to keep up the ruse. If she's not worried, we are worried for her. We want her to be careful, and we want her to get her concerns to the right people so that things are taken care of and she's nothing to worry about.
Jax is back, and no one is less excited that Sonny. He hates when Jax is in town. He feels that this man is always working so hard to get his family from him, and to take his wife, and his life. He might want to at some point, but he's here for his daughter right now. He's there to help her get through the pain of losing her friend, Oscar, who will not live much longer. It's a horrible time for her and for the people she loves, and he will be here for his daughter, even if it means stirring things up with Sonny yet again.
Stay tuned for more General Hospital and be sure to check out TVOvermind daily for the latest General Hospital spoilers, news, and updates.
Tell us what's wrong with this post? How could we improve it? :)
Let us improve this post!