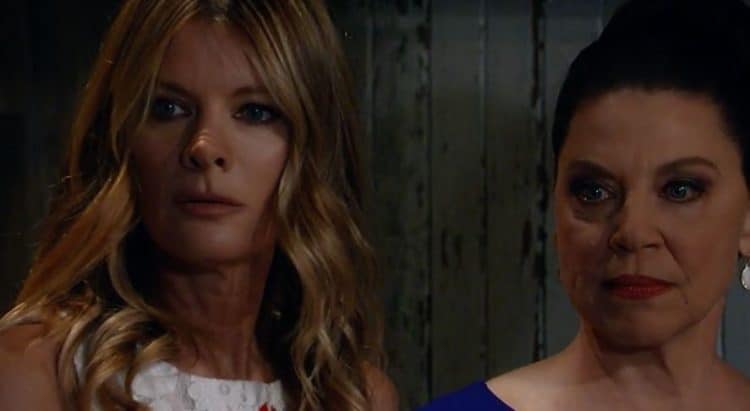 General Hospital fans are so heartbroken — still — that Dante is gone. Watching him break the news to Lulu and say goodbye to her and their live together was a difficult situation for all of us to deal with, but it is what happened. The fans are not happy to see him go, but there is very little anyone can do about it at this moment in time. There is so much we don't know about what will happen to Lulu, but we don't think he will be gone forever. There is always a chance he might just come back and join us in a way that we can't even describe. We hope so. But we also saw a lot happen with Sonny and with Carly. They have some hope for getting her out of this situation, which might just be very nice. But they still have some serious hurdles to overcome, though they seem to be doing a good job of keeping those to themselves.
And then there is Michael. We all watched with total horror and upset as he asked Nelle to be his wife, and we are not happy about that. We know he's not going to marry her out of love or anything like that, but it's still a lot to take on in this moment. They have a long way to go, and we know that they will never get married or have a life like that. And they will not have any indication that we are sure this baby does not belong to him, but there is a lot we don't know at this point. She might be a baby mama to someone else's baby, and we all know this. But we also know that his family will take her down like no one's business.
What's Happening on General Hospital
NEXT WEEK… something EPIC is coming to https://t.co/a1AdZb3Ylp. But don't take it from us… @1SteveBurton @kellymonaco1 #GH55 pic.twitter.com/EvR6i5ysGB

— General Hospital (@GeneralHospital) June 29, 2018
We don't know what is happening, but we know it's happening so soon! The show has brought us a quick promo of the amazing Jason and Sam telling us that something amazing is about to happen on the show's site, and it's going to be epic. That's their word, not our word. And we believe that they might just be right about what will happen here. It's going to be epic. And we can't wait to see what it is and what they have in store for us.
What's Next on General Hospital
WATCH: Spinelli wouldn't be upset if things went back to the way they were. @BfordAnderson @1SteveBurton #GH55 pic.twitter.com/tvEOCRfRrT

— General Hospital (@GeneralHospital) June 30, 2018
Now that the new week is upon us, there is a lot to deal with. We know that Lulu is going to face some ugly situations in the future. She's got a husband who left her for a new job, a baby that she can't get all to herself, a friendship with Maxie that's pretty much not going to change for the better or ever go back to normal at this point, and she's in a place where she really can't get things together. Her career might take the brunt of her new focus, but she's got to get her life together right now, and that means focusing on things that might not be the most important things in her life at this moment. She has to get over the fact that Dante left and she doesn't know when she will see him again, though, and that's hard for her. She's not happy about it, but she's shifting all her focus to places where she can find things working better for her. Will it work? We don't know.
And then there is the fact that Carly is still locked up. Sonny is going to find a way to get back in to see her, and he has news to bring. That news could be anything, but we hope it's not more news of Michael and Nelle and their future together. We just are not confident she can handle that at the moment. There's so much else going on in her life she needs to be worried about other than things she can't change.
Stay tuned for more General Hospital and be sure to check out TVOvermind daily for the latest General Hospital spoilers, news, and updates.
Tell us what's wrong with this post? How could we improve it? :)
Let us improve this post!