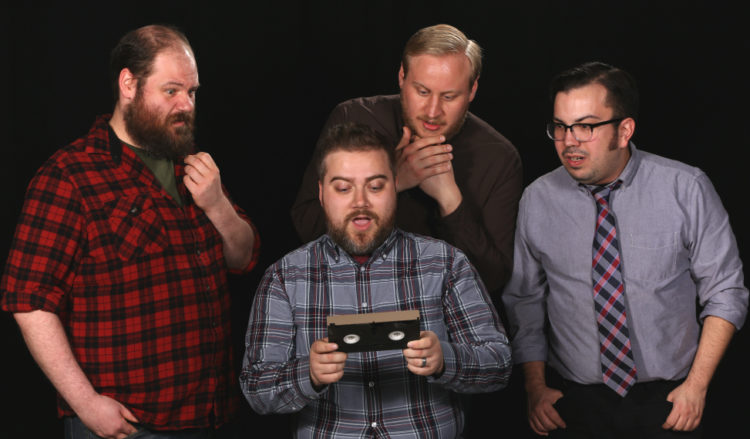 Wherever you get your podcasts, be it Apple, Stitcher, or parts yonder, there is no shortage of film-related content streaming into our devices. Throw in a bit of comedy and you have the recipe for an inciteful and hilarious listening experience that takes what we love about movies and gives it a comedic spin. Here are a few film-themed comedy podcasts you may or may not know about.
Film Sack:
Hosted by Scott Johnson, Brian Ibbott, Randy Jordan, and Brian Dunaway, Film Sack is part of the Frogpants Network of Podcasts. The premise is simple, four friends watch a movie and have an in-depth and often times nerdy discussion about said film. The show has a "good friends" vibe with the hosts not always having the same opinion but never taking it to a mean place. Even when they dislike a movie they cover, it doesn't devolve into a bashing session of either the film or each other. The hosts keep the show light and fun while cracking geeky quips along the way. The segments in the beginning and end where they intro the film individually through funny diatribes and what they would put in a Twitter post about the movie are where they really shine. A pretty clean, mostly safe for all ages program, Film Sack is a great listen if you're looking for lighthearted entertainment.
How Did This Get Made?:
Produced by the Earwolf Network, you may have heard of this one already, or at least have seen the hosts in film and television. Hosted by Paul Scheer (The League, Human Giant, NTSF: SD: SUV), his wife June Diane Raphael (Grace and Frankie, Long Shot, Parks and Recreation), and the always recognizable Jason Mantzoukas (Big Mouth, Brooklyn Nine-Nine, Dirty Grandpa) take their love of cinema and improv comedy and riff about some of the best bad movies, usually in front of a live audience, only adding to the laughs. Wikipedia explains:
Each episode, which typically has a different guest, features the deconstruction and mockery of outlandish and bad films.
The banter is fast and raucous, rarely giving the audience a moment to catch their breath between jokes and call-backs. Although, you might want to make sure the kids aren't in the room because the comedy tends to be a bit blue in parts. A definite recommendation for serious comedy nerds.
Bad Movie Fiends:
Like their motto says, "One Star. We're In." The Bad Movie Fiends Podcast or BMF Cast is a fun listen if you want both a show about cheesy, silly, and often times action-packed films with a deep dive discussion. Hosted by Harlo, Chuck, Maki, and BJ, these guys wax intellectual and otherwise about some of the best and worst cinema has to offer.
What makes the show so interesting is the two halves they spit their discussion into. The first half of the show is a fun and informative discussion about the film they have chosen while the tail end has them talking about what they have watched over the past week, giving the viewers ideas of what to check out. Along with reading and listening to fan requests and questions via emails or voicemails left by listeners on the "Garfield Phone" (it is the actual Garfield the Cat phone from the '80s. Look it up if you've never seen one), some of what makes this show so fun is the fact that they all have similar tastes yet when they disagree, their takes are well stated and researched. The hosts' love for movies shows through their banter and feels real, because it is. Some of the movies covered are little-known gems that don't ever get their due and their fan interactions make the audience feel like they are a part of the show, making the entire experience feel familiar and fun.
Check out their Patreon for more content like No Quarters where they cover video games, Doctor Who U (I think you know what that's about), and BMF Cast Extra hosted by Harlo and Chuck discussing movies that might have been a bit too long for the main show. Word of advice, watch Robot Jox, one of their all-time favs and most referenced movies. Always a good time.
We Hate Movies:
This is a personal favorite of mine and has been for years, but don't let the name fool you. These are die-hard film lovers who know the medium. Part of the Head Gum family of podcasts, We Hate Movies is hosted by four friends, Andrew Jupin, Stephen Sajdak, Chris Cabin, and Erik Szyszka who began by taking bad films and riffing on them. Over the years, the show has evolved to include We Love Movies episodes, where they cover classics deemed worthy of adulation. The tone of the show is always comedic, while their knowledge of film is tight and well-versed. The guys are sharp, and when they sink their teeth into a bit, they take it for a hysterical, often time ridiculous, walk.
A Patreon worth signing up for, they have a back catalog, as host Andrew Jupin would put it, "To beat the band." Other shows they host include The Nexus (for you Trekkies out there), Animation Damnation, where they watch animated shows from days gone by, The Gleep Glossary where host Erik Szyszka reads about random Star Wars characters from Andy Mangle's The Essential Guide to Characters, and most recently, Melr0210, a show they started during quarantine where the guys watch an episode of Beverly Hills 90210 and Melrose Place and discuss it in comedic fashion.
Not for the kiddies. If you don't believe me, check out their episode on Ultraviolet where they have an interesting riff on the film Heat. An ever-evolving, always enjoyable podcast We Hate Movies is a definite recommendation.