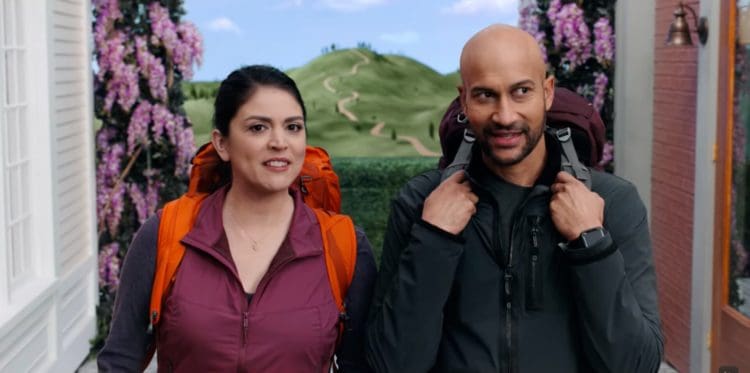 Remember the good old days when there was only one streaming service to keep up with? One could confidently walk into the office sure of the knowledge of the new, coolest show out there. Nowadays, there is so much quality television available that one could make a full time job with overtime out of keeping up with it all. Since that's probably not on the table, take our advice and add Schmigadoon to your to-be-watched list. Here are ten reasons why this campy, feel-good musical comedy deserves your streams.
1. It will make you laugh
This show is full of feel good musical comedy. It is produced by SNL producer Lorne Michaels. It features original songs by Cinco Paul. The basic premise is Josh (Keegan-Michael Key) and Melissa (Cecily Strong), a longtime doctor couple in a bit of a slump, go on a backpacking trip to reconnect. They stumble upon a magical, musical town Schmigadoon, which is like living in a 1940s golden age musical. Schmigadoon is filled with stereotypical musical theatre characters such as the town bad boy rapscallion Danny Bailey (Aaron Tveit). Josh and Melissa learn they cannot leave unless they find true love. A situation for comedy if ever there was.
2. The cast is full of talented well known actors
There are so many talented actors in this series that it is impossible to name them all. The central couple Josh and Melissa are played by Keegan-Michael Key of Key and Peele fame and Cecily Strong of SNL fame. Jane Krakowski, best known for 30 Rock, plays the rich debutante Countess Gabriele Von Blerkom. Comedic legend Martin Short plays Leprechaun. Alan Cumming plays the closeted mayor. Dove Cameron plays Betsy McDonough, a sexy farmer's daughter. There are so many more.
3. The cast is full of musical theatre greats
Because of its musical theatre parody nature, the cast of Schmigadoon includes incredible musical theatre performers. Kristen Chenoweth plays Mrs Layton, the town's serious, god-fearing, rule enforcing preacher's wife. Chenoweth has an extensive Broadway resume which includes originating the roles of Sally Brown in You're A Good Man Charlie Brown and Glinda in Wicked. Aaron Tveit plays the town bad boy rapscallion Danny Bailey. His Broadway credits include originating the roles of Gabe in Next to Normal and Frank Abagnale Jr in Catch Me if You Can. Ana Harada, best known on Broadway as the original Christmas Eve in Avenue Q, plays the mayor's wife Florence Menlove. There are many more!
4. The set designs are beautiful
Production Designer Bo Welch creates fake, over-the-top musical set like locations such as a bright Americana styled Main Street that serve as the perfect backdrops for the cast to create this magical world. Welch has worked on many projects involving intricate worlds such as Beetlejuice, Men in Black, and Edward Scissorhands. He won a BAFTA Award for his production design on Edward Scissorhands.
5. There are lots of musical theatre inside jokes
While this may not be a selling point for all people, it will certainly speak to some. There are many musical theatre easter eggs in this show. The title itself Schmigadoon is a play on the 1947 Lerner and Loewe classic Brigadoon. In Brigadoon, two American tourists find a mystical Scottish village that only appears once every hundred years. Sound somewhat familiar? The characters are also straight out of musicals. Jane Krakowsk's character Countess Gabriele Von Blerkom is based on the Baroness from The Sound of Music. Kristin Chenoweth's character Mrs Layton is based on Mrs Shinn from The Music Man.
6. It also pokes fun at the musical theatre construct
If musical theatre isn't your thing, fear not. Schmigadoon has a subtle way of poking fun at the genre. The characters Josh and Melissa are excellent at reacting to the absurdity of the world around them. At the heart of it, the musical gimmick really is a metaphor for the hectic modern world and Josh and Melissa are just trying to stay afloat in love.
7. Come for the musical comedy, stay for the sexual innuendo
Since this town is set in 1940s style musicals, it cannot be overtly sexual. Plus Mrs Layton would not allow that. Instead there is witty, classy sexual innuendo such as picnic baskets, ripe melons, and cocked and loaded guns.
8. There are many comedy callbacks aka long form jokes
In comedy, as in other things sometimes, the greater the build up the greater the reward. Jokes sometimes need a long set up to achieve maximum pay off. Schmigadoon has many long running gags. One of these involves poor unlucky townsperson named Pete. For whatever reason Pete seems to always be in the wrong place at the wrong time and as a result gets injured. When the gun goes off in the opening number, Pete gets shot. When a rock is thrown in the woods during Mayor Menlove's song, it hits Pete. Poor guy cannot catch a break.
9. There are only 6 episodes in season 1
Schmigadoon's first season consists of only 6 episodes. This means it will definitely leave you wanting more instead of thinking it is too long and overdone. It can also give you a feeling of accomplishment. Yes I was productive. I finished a whole season of a television show. Good for me.
10. While making you laugh, it teaches you valuable life lessons
Comedy is always richer when it has a purpose. We learn better when we are having fun. Schmigadoon capitalizes on this principle. It teaches us to be true to ourselves so we can love someone deeply and unconditionally. The world could definitely use that message right about now.
The Bottom Line . . .
Streaming Schmigadoon will further cement your status as office television guru. It will make you laugh, think, sing, and possibly even box-step along in true musical theatre style.