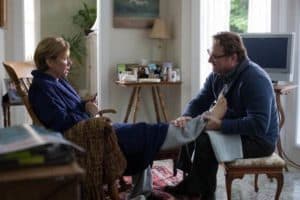 Tonight's Fringe episode, 'And Those We've Left Behind,'showcases any number of things I love about the show, even if it was a little light on the mythology: that being said, I love that the more case-centric episodes allow for a focus on the characters and their relationships. Not to mention we were due for a bit of a breather after the whirlwind start to Fringe season 4.
The episode features real-life husband and wife Stephen Root and Romy Rosemont in fantastic performances as the root cause of the time slips that have been happening. Fringe Division initially attributed the time lapses to Peter's appearance, but it becomes apparent that Root's character Raymond is responsible; however, Peter's appearance is what allowed Raymond to succeed with his time-jumping technology. It seems as though Peter's very existence in this new timeline, which people have taken to calling the Amber timeline, has made the universe itself more susceptible to time-related Fringe events.
Fringe has become particularly adept at featuring cases which parallel the issues going on in the lives of our characters. In this instance, Peter must know something of what Raymond is going through: everyone Peter loves or cares about has forgotten him and their lives together, and at the moment there is nothing he can do to help them recover those memories. Every so often an episode comes along that hits me a little deeper than I expected, and this was one such episode for me. I can't claim to know what it's like to see a stranger staring back at me from the eyes of someone I love, as happens with the Alzheimer's from which Romy Rosemont's character Kate is suffering. I do, however, know something of what it's like to watch someone I love in a situation that I can do absolutely nothing to change. Sometimes all we really can do for the people in our lives is, as Kate advises Raymond, love them; knowing that and accepting that, however, are two very different beasts.
My slight complaint about last week's Fringe episode was remedied in 'And Those We've Left Behind': with Walter determined to ignore Peter, Peter and Olivia's interactions were brought to the forefront. It was certainly jarring at times, since in many ways they're almost back at season 1 in terms of their relationship, yet with an undercurrent of strangeness. From Olivia's view, Peter is a stranger, yet she has this odd connection to him; for Peter, Olivia remembers nothing of their time together, yet she remains, in many ways, the same woman he knows and loves. Seeing Peter and Olivia work the case together was quite fascinating, especially since Peter was given a chance to show his brilliance. Usually, Walter is the one coming up with the theories, yet Walter refused to work this particular case, for the most part, so Peter stepped in. Sometimes it's easy to forget that Peter is a genius himself, even if he doesn't have the same formal training as Walter.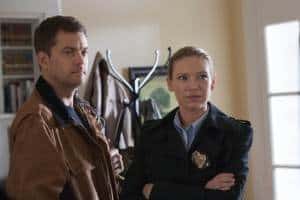 I thought it was about time that Olivia told Peter about her dreams, and finally asked him, albeit in a round-about way, what they were to one another in the other timeline. The final exchange between Peter and Olivia really brought home something I've been wondering about for a while: is this really 'our'timeline, and where was Peter Bishop? The characters we've been seeing since Fringe came back this season are undeniably different, and with so much of their history also altered, it makes me wonder if Peter himself has been transported to another, alternate universe rather than everything in our Blue timeline changing around him. Theoretically, there should be an infinite number of alternate universes, and we've only really seen two thus far. Just when I think I've resigned myself to the paradoxes that time travel presents, an episode like this pops up and turns everything on its head again. Say what you will about Fringe, but they certainly know how to keep us guessing at every turn.
Something else I'm also enjoying this season is the little references and call-backs that seem to be hidden throughout the episodes, and the tangents they send me on. For example, the book that the little girl in the teaser wants to read is called 'Burlap Bear', which first showed up in the season 1 Fringe episode 'Unleashed'when Olivia is reading it to Ella. This prompted a question that I probably should have wondered more about before now: does Ella still exist in the Amber timeline? Since Nina adopted Olivia and Rachel after their mother's death, perhaps the more stable maternal influence kept Rachel from getting into a relationship with Greg; however, Marilyn Dunham didn't die Over There, and Rachel still got pregnant, so that reasoning may be flawed.
Tonight's Fringe did a wonderful job of exploring a fascinating case — and I loved the way they used the time jumps — while simultaneously setting up what seems to be the direction this season will take. Exploring this new timeline is certainly an adventure, but I really do want to see at least some progress soon on setting things to rights, otherwise I fear it may get a little bit frustrating. That having been said, I trust everyone at Fringe, and they haven't let us down yet; they always seem to know just how long to keep a storyline going, and I've never felt like they needlessly draw things out. Who else can't wait for next week's episode already? A