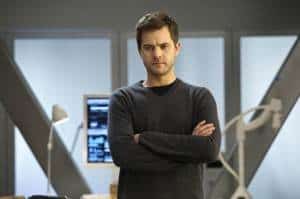 It's very rarely that Fringe disappoints me, but last night it did. It was, perhaps, one of the few times where the writers of the show didn't manage to keep that perfect balance of character-driven story and mythology. Instead, with "6B," the scales tipped so strongly that while the characterization in the episode was stellar, the case itself was underwhelming.
Of course, this episode had been needing to happen for a long time. Peter and Olivia (our Olivia, this time), finally kissed and made up (and beyond), which was a significant step forward from the repressed sexual tension of the past few episodes set in this universe. I found myself cheering for Peter as he gently informed Olivia that she was the only obstacle in their relationship, and found myself in awe of Joshua Jackson's fantastically understated acting abilities. He hasn't had the opportunity to inhabit a new character this season like his co-stars have, but instead he's been fleshing out Peter in so many ways that he's more three-dimensional than any of the other characters in either universe — and that's saying a lot.
Then there was Walter, who struggled with making the same tough decisions that Walternate made. John Noble, who is undoubtedly the best actor on Fringe, did another stellar job of hanging onto his characters lovable side while overlapping that with darker overtones of fear and even self-loathing. It was one of the best acting jobs Noble's done this season. Again, that's saying a lot.
But it was the case itself that really bothered me. It's no secret that the cases mirror the personal dramas of our characters in subtle ways. "Immortality" dealt with characters being impregnated with giant bugs, while "Marionette"'s attempts at resurrection draw parallels to Olivia's attempts to get her life back. This week was no exception, although the lines of subtlety were a little more than skewed. In fact, the episode forewent any reasonable sort of science when dealing with the elderly couple who were tearing the universes apart with their grief. Sure, they served as a brilliant foil to the burgeoning relationship between Peter and Olivia, but unlike other cases, that's all they really were. We weren't really given any reason why their emotions should tear the universe apart — we just had Walter mumbling a quote from Einstein and vaguely mentioning chemical reactions in the brain. You know how when cakes have flaws, bakers smooth a layer of icing over to hide them? That's what the writers of Fringe tried to do this week, except they left audiences a bite of too much icing and not enough cake.
So yeah, I'm disappointed with "6B" overall. But then again, it was bound to happen. After fifty-six episodes of maintaining that perfect balance, it was only a matter of time before they would slip and go one way or the other. Was it a bad episode? Again, I stress it wasn't. The character development was absolutely brilliant, which attests to the brilliance of the show's writers. But like the relationship between the two universes, if the balance is messed up, the entire ship might just sink. B-