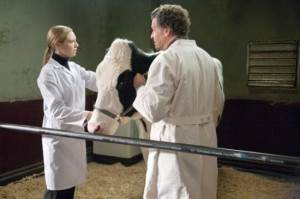 I never thought Fringe could get much darker. The show's lurid storylines have always been counterbalanced with the warm, bright emotional center that the main trio have. But with Olivia channelling William Bell, Peter brooding, and Walter almost criminally underused, the only really bright spot came from this universe's Lincoln Lee, who, though great, just didn't do much to offset the really, dark storyline that included two suicides, several attempted suicides, and an attempted suicide bombing. It was all very bleak stuff, and in this episode, the bleak easily overpowered the bright. But for this episode, it worked.
Anna Torv proved her acting chops again by playing the third incarnation of Olivia — this time channelling William Bell. With actor Leonard Nimoy still in retirement, we got the next best version of the character in Torv's best Nimoy impersonation, which was actually really good when it could have been horribly off. She didn't have Nimoy's presence, of course (few do), but she captured his personality and speech quite well.
My only complaints about the episode really stem from the pacing. I couldn't help but feel that they tried to jam too much into the episode, and some things were just sort of thrown to the sideline. Of course, a jam-packed episode is never a bad thing, but the episode did seem to come apart at the end.
The beginning, for instance, cut out a scene that I think we were all looking forward to see play out: William and Walter's reunion. If we'd seen this happen, not only would I retract that Walter was "criminally underused," but knowing John Noble, I would probably have said it was the best thing about the episode. It's an important scene for the two characters, and the time-saving cut to Broyles meeting Bellivia felt like a fumble.
So did the ending of the episode, which felt really compacted. The case of the emotionally conflicted Dana Grey was really pretty gripping until the end, when she was suddenly killed off with only a hypothetical explanation from Bellivia in the final moments of the episode to explain it away. I would have been able to tolerate a bit of paring in the middle to get a more satisfying ending.
And speaking of endings, the cliffhanger just wasn't quite as shocking as it could have been. Sure, I'm interested to see the ramifications of what Bellivia is going through, but the "I might have been wrong" quote certainly wasn't a strong note with which to cut to the Bad Robot logo. It felt like we saw just a moment too little of the episode. Some big revelation was just about to happen, and then we cut to the screen. Underwhelming, to say the least.
But the episode was overall a well-written, if underdeveloped, character study of Dana Grey, who received a lot of focus at the expense of our heroes. The episode really did feel like it was bursting — if not leaking — at the seams. But it certainly wasn't boring, and it was certainly engrossing. Anticlimactic ending or not, I'm ready to see where the story goes next. B-