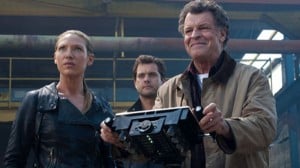 Last night's Fringe episode saw the team continuing to follow the directions on Walter's tapes to recover two familiar Observer beacons. Their search led to a reunion with Nina Sharp, who has a history with both Walter and William Bell. Nina confirmed Walter's worst fears: he is reverting to the arrogant man he used to be, and his love for Peter will not be enough to keep him grounded. Peter uses his newfound abilities granted by the Observer tech in his head to orchestrate a terrorist attack against several of Captain Windmark's top lieutenants. The technology has given Peter the ability to predict various Observers' probable futures: unfortunately, Peter is becoming more and more Observer-like in the process. Olivia presses Peter for information, and he finally admits to what he did, in the name of avenging their daughter.
Nina has a long history with Walter, some of which we got a first-hand glimpse in "Peter": Nina had the unenviable position of trying to serve as the voice of reason to two brilliant men with god complexes, and has been in love with William Bell for a very long time. We've seen several references to their relationship, including a conversation with Olivia about the complexities of relationships with work colleagues. And although that conversation occurred in the original timeline, it's obviously still relevant. Walter has been convinced that his love for Peter, and the relationship they have cultivated, will be enough to keep him from reverting to the man he used to be: one aspect of his reasoning I found faulty was that he had, and loved, Peter as a boy, and it wasn't enough to prevent his arrogance from flourishing. When Walter so coldly informed Nina that Bell never loved her in the first place, I think it was the clearest glimpse we've ever seen of the man Walter was before his surgery and institutionalization.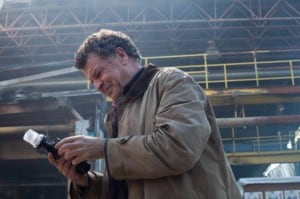 It should be interesting to see whether Nina will agree to help Walter submit himself to neurosurgery again. Clearly, they are in dire need of his intellect in 2036: even if they remove the same brain regions as before, there's no telling what effects it may have on Walter's mind. Especially given the side-effects we saw after his encounter with Captain Windmark. That being said, even if Nina refuses to help, we've seen Walter willing to self-lobotomize himself before, so there's no telling what he might do to himself with sufficient provocation.
I've always found Nina Sharp highly intriguing: she remained ambiguous for most of season one, ranging from helpful, to inexplicably invested in Olivia, to quietly menacing. As Fringe progressed, we saw more and more of Nina, especially after Walter was bequeathed Massive Dynamic after Belly's death. Last season we saw yet another change in Nina: in the new timeline, she raised Olivia and her sister Rachel following their mother's death. Some fans felt vindicated when Nina was revealed to be working with David Robert Jones; at least until we realized it wasn't the Nina Sharp from our side, but from Over There. This season we've seen some flashbacks, namely Peter and Olivia's memories of the day they lost Etta when the Observers invaded. I'd love to learn some of what Nina has been through since the invasion, and since she lost some of the people closest to her. We know that Etta was "special" to her, as she tells Olivia. (And how fantastic was that reunion?) But I'm still curious as to Nina and Etta's history.
The big reveal of the episode was not for us as viewers, but rather for Olivia: Peter finally revealed that he used the Observer technology on himself. Clearly Olivia had no idea how to react and, uncharacteristically, just left. Josh Jackson did a great job transitioning Peter throughout the episode: he went from a little off to full-blown Observer — in both mannerisms and diction — by the end of the episode. I'd love to learn what effect, exactly, the Observer technology has on the human brain; and by the promo trailer for the next episode, which airs in three weeks on December 7, we may get some answers for that. It makes me wonder whether the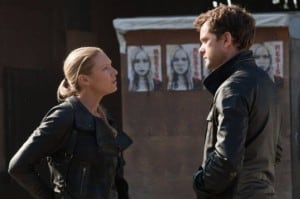 Observers are, naturally, much more human than they have seemed thus far: perhaps they are more human-like, but their technology has a profound effect. In Peter, at least, it seems to be overwriting certain aspects of what it means to be human, along with his personality. Left behind are the coldly analytic modules, obviously augmented by the technology. Given that the technology seems to insert into the brainstem, removing it without killing the subject is likely impossible, but there may be a way to inactivate it. The question then becomes: what of Peter will remain? Are the changes irreversible?
I enjoyed many things about this episode, and seeing Peter use the flesh-melting chemical from the pilot episode on the Observers was oddly satisfying. I did, however, find the pacing a little bit odd, even though I'm having trouble putting my finger on why exactly that was. Normally I'd say that was a bad thing, but intentional or not, I think it lends itself well to the disorientation that the characters are feeling, and the sense that everything is falling apart. I still haven't given up hope that somehow we'll see our team snatch victory from the jaws of defeat, and that they may yet get their happy ending. As things stand now, though, that's looking increasingly unlikely. Grade: B+
Tell us what's wrong with this post? How could we improve it? :)
Let us improve this post!