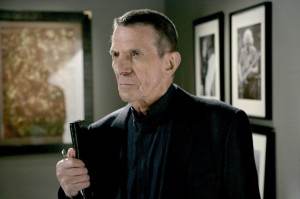 Fringe concluded its first season last night with an awesome, geek friendly plot that was heavy on the show's mythology and gave us the return of the fantastic Mr. Jones, as well as the first glimpse of William Bell, played by the wonderfully talented Leonard Nemoy. But Fringe creator J.J. Abrams has billed the show as an occasional serial but more often procedural series, where a casual fan can be just as satisfied as the hard-core fans. In light of this, did Fringe go too far with it's finale, which jumped into the world of an alternate, parallel universe that some of the characters can actually go back and forth to?
It isn't a secret that I am a HUGE fan of mythos-heavy serial shows. There isn't a single police, medical, or lawyer procedural that I watch or enjoy. Shows like Lost, Fringe, Battlestar Galactica, and Life on Mars appeal to me, and I couldn't be more excited about next season's Flash Forward series heading to ABC. But many fans out there, the majority actually, don't enjoy keeping up with the kind of history necessary to follow most serial shows. My wife is one of those people, and although she does love Lost, most serial shows don't impress her. She's stuck with Fringe so far, because like Abrams is fond of saying, a run-of-the-mill fan can still enjoy the show. But last night was a bit different.
On the season finale of Fringe, Olivia and team are trying to track down Mr. Jones after he shoots Nina Sharp and steals a powerful energy cell that William Bell placed in her robotic arm. It turns out that Mr. Jones was a Massive Dynamics employee that feels he was under utilized by Bell, and wants to show him how special he is by killing him. But it also turns out that William Bell is no longer on our world. He is on Earth, but he is on an alternate, parallel universe version of Earth, where it is explained that things are slightly different than on our Earth. Those differences aren't entirely fleshed out at the time, and it is explained that some people may actually be able to travel between universes. The childhood drug experiments that were conducted on Olivia and many other children seem to have been William Bell's attempt at giving children a special ability that would later allow them to travel between the worlds.
In the shocking conclusion Olivia herself travels to the alternate reality and gets her meeting with Bell. Her transference to the alternate-Earth is made very clear as the camera makes its final pull-back from the office she sits in, to reveal that she is in an office in one of the World Trade Center Towers. Even my wife thought this was quite a genius way of illustrating what they meant by "slightly different than on our Earth." There's no doubt some people will be offended by the use of the World Trade Center as a plot device in a tv show, but its not the first time, and whether people like it or not, it nicely illustrates the difference in the two worlds within a matter of seconds.
This is all fantastically exciting, and had me loving the direction the show is going to take next season. This year seemed to be more about realizing that there was an enemy, and ultimately another world, but finding out who that enemy really is will be the ultimate goal of next season. It also seems that they are going to abandon the pattern mythos, more or less, which would have become a difficult concept to service as the story progresses. But my wife seemed less than enthusiastic about the episode last night. I caught her looking confused on more than one occasion, and lets just say that there was a bit more eye-rolling than my 8 year old daughter normally displays. This got me wondering, is a series that centers on parallel dimensions too geek cool for an average viewer to follow? I think in many ways the answer to this is yes. The concept itself is tough to swallow for a non-geek, non-sci-fi loving viewer and could lead to some fans tuning out of the show. However, as hard as J.J. and crew have struggled to make this show accessable to the average viewer, you can bet that they won't allow season 2 to be consumed with too much high-tech parallel world talk. Its definitely a part of the mythos now, and even the average fans who continue to watch the show will have to come to terms with that. But you can bet that the showrunners will find a way to ensure that Fringe remains accessable to people like my wife, who just want a nice, weekly thrill. But which camp do you fall into? Let us know in the comments below.