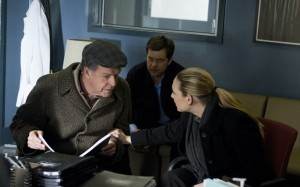 Last night's Fringe was an action-packed first part of a season finale. True to form, the episode was rife with shocking moments doled out with alacrity while some long-awaited revelations brought the bigger picture into focus. In 'Brave New World: Part 1'we learn that David Robert Jones still has some tricks up his sleeve, and that the closing of the Bridge doesn't seem to have stopped Jones'quest to destroy the universes. Not only that, but it becomes quickly apparent that Jones is answering to someone else who is calling the shots. Even though 'Letters of Transit'hinted at Leonard Nimoy's return as William Bell, I didn't really expect to see Nimoy so fully reprise his role as the enigmatic Belly. I think it's a credit to everyone involved that they were able to keep such a big secret so completely under wraps.
I love the juxtaposition of the fact that Olivia spent season 1 hell-bent on proving an innocent Bell guilty with the fact that a guilty Bell now seems to be the one behind Jones'scheming. Fringe always has excelled at symmetry. This does make me wonder, though, if perhaps Bell was more involved in the Pattern than we thought he was, which casts something of a shadow on the Belly we've gotten to know and love. That being said, this version of Bell who is willing to destroy two universes to create a third of his own design doesn't exactly mesh with the version who would sacrifice himself to send Peter, Walter, and Olivia back home across universes. I've always loved the dynamic between Walter and Bell, and I think John Noble and Leonard Nimoy play off one another wonderfully. I honestly never thought we'd get another chance to see the two on screen together again — not least of all because Mr. Nimoy was retired — but I've never been so glad to be proven wrong!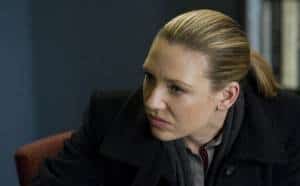 Every so often I find that I need to take a step back and remind myself that this isn't the same timeline we're used to, that there are numerous elements at play which make it very different and that we've only just scratched the surface. One such instance involved Walter's attitude towards Bell: just as this Walter never received absolution from the former Cortexiphan children he damaged so badly, this Walter has never had a chance to clear the air with his former best friend and lab partner. Walter is obviously aware that Bell was responsible for removing bits of his brain, but he doesn't remember that the reason Belly stole those memories from him is because Walter himself requested it. It does seem as though sometime in the last couple years William Bell's god complex got a little more pervasive.
I can't help but think we haven't seen the last of Rebecca Mader's volunteer-test-subject Jessica Holt. She seemed a little too willing to offer herself up as a guinea pig for Walter, and was a little too at ease with the whole situation. Her presence in the lab would get Bell some valuable intelligence on the Fringe Division team, and give him a gauge for how much control Olivia has over her Cortexiphan-induced powers. There's also the fact that nothing is ever one-dimensional in the Fringe world, and I have a hard time believing they'd bring in such a well-known actress only to use her character so briefly.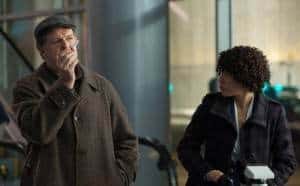 And as great as it was finally, finally getting to see Jasika Nicole's Astrid kick some ass, I'm going to be really upset if it was only in the moments right before her death that we finally got that payoff. While no-one ever really seems to die in this show — and what finale would be complete without a major character death? — I refuse to believe that it's Astrid! Right now I'm holding onto the fact that Agent Farnsworth was around in the future 2036 we saw in 'Letters of Transit'as reassurance.
As always with Fringe, I can't help but feel as though there's more to the story. As Nina pointed out, William Bell didn't seem like the type to become the destroyer of worlds; at the same time, this is a man who had no compunctions about experimenting on children, and we've never really gotten a chance to explore the character well enough to know where he draws the line. All in all, 'Brave New World: Part 1'was a fantastic, fast-paced, adrenaline-rush of an episode rounded out with some lovely character moments. I'll be on tenterhooks all week until we get a chance to see how this season ends! A