Ten is a round, perfect and predictable number. In the spirit of Spinal Tap, this list goes to eleven. Here are my selections for the best of the small screen in 2010:
Favorite episode of season 6: 'What They Died For'
Those who absolutely loved the series finale will defend it forever, and those who loathed it will argue with the same fervor. After watching the final episode several times, I strongly feel as though Damon, Carlton & co. gifted their dedicated fans with a finale that exceeded expectations and will continue to inspire many of us for the rest of our lives. The flash sideways memory revelations (Jin & Sun and Juliet & Sawyer in particular), the long overdue father & son Shephard reunion and those last ten minutes in the church were extremely satisfying on every level.
Favorite episode of season 3: 'Fly'
The ability to create and sustain nail-biting intensity throughout each episode is rare, and Breaking Bad consistently achieves that accomplishment every season. Coupled with the powerful presence and performances of Bryan Cranston and Aaron Paul, this is a show filled with jaw-dropping moments that deserves a much wider audience. Anna Gunn had an outstanding season as well, and really is one of the more underrated actresses on television.
Favorite episode of season 3: 'Entrada'
Fringe has certainly upped the stakes and ante this year with a very compelling first half of an amazing third season. From the stunning visual presentation of the alternate universe to Anna Torv's Emmy-worthy double duty, Fringe has inched up my list and is fast approaching favorite current show status.
Favorite episode of season 2: 'Poisoned Pill'
Featuring one of the most talented (and, arguably, most attractive) ensembles on television, The Good Wife is anything but a weekly procedural. Every episode is a pleasant surprise, an hour chock full of sexually charged dalliances and intriguing legal cases. Archie Panjabi's Kalinda is easily the most interesting, frustrating and mysterious character, male or female, to grace the current television landscape.
5. Terriers
Favorite episode of season 1: 'Sins of the Past'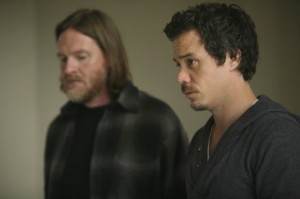 Disappointed doesn't even begin to describe how I feel about the cancellation of this stellar series. Ted Griffin and Shawn Ryan created a unique and quirky show about two friends who unofficially investigate local crimes in San Diego, and established immediate emotional resonance with both characters from the very first episode. Terriers had heart, and FX broke ours when they had to cancel the series due to low ratings.
6. Community
Favorite episode of season 2: 'Abed's Uncontrollable Christmas'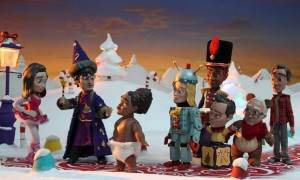 Aside from Lost, this was the only show that required multiple viewings in order to pick up integral background conversations and character interactions that took place in the blink of an eye. I am blissfully in love with Community's pop culture references and homages (both the obscure and the obvious), as well as the off-kilter cast of characters who make me feel as though I am a welcome guest at their study hall table every week.
7. Modern Family
Favorite episode of season 2: 'Unplugged'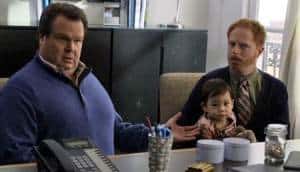 The very best scenes may as well be titled Those Dizzy Dunphys and The Crazy Cam & Mitch Mockumentary. Modern Family is an incredibly well scripted series that continuously pushes the envelope, resulting in more laugh-out-loud moments than any other comedy on my very crowded DVR.
Favorite episode of season 4: 'The Suitcase'
Although the focus of show is always going to be Don Draper, this was Peggy's season. Elisabeth Moss was nothing short of phenomenal in every episode, and truly had the opportunity to shine while January Jones was oddly relegated to occasional appearances.
9. Friday Night Lights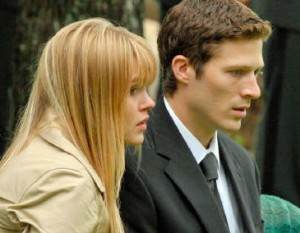 Favorite episode of season 4: 'The Son'
Coach and Tami Taylor are candidates for the most realistic and likable parents on television. It is admirable that the true spotlight on the show still illuminates their relationship, above and beyond all football and high school drama. This season, the heartbreaking and the heartwarming were intermingled brilliantly, especially when Riggins and Saracen were involved.
Favorite episode of season 3: 'The Next One's Gonna Go in Your Throat'
The web that ensnares Patty, Ellen and their associates continues to be a deliciously taut and tangled mess. I enjoyed attempting to put together the pieces to the 13-episode puzzle that they dangled from that web, and this season was just as enigmatic as the first two. Thank goodness Ted Danson is also on Bored to Death, because he continues to steal every scene when he appears (far too infrequently) on Damages as Frobisher.
11. Dexter
Favorite episode of season 5: 'Everything is Illumenated'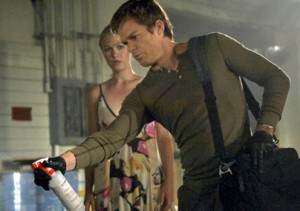 In previous years, Dexter was featured much higher up on my list. While many were dissatisfied with this season, I found the show and Michael C. Hall to be quite riveting. Julia Stiles was the perfect addition to the cast and a welcome change of scenery in Dexter's life. I continue to be baffled by the lack of nominations for Jennifer Carpenter; there is simply no other actress or female character like Debra Morgan on television, and she definitely deserves the recognition.
What are your top shows and favorite episodes from 2010?
{Follow Jo on Twitter @jopinionated}