Last night's Fringe was chock full of developments regarding the overall mythology and relationships of our favorite FBI agents. It was a pretty good episode that laid out some good information, had an interesting case and provided some always welcome humorous moments from Walter.
For Nadine's review of the episode click on over here and if you missed it and want to find out exactly what happened last night, well just keep reading….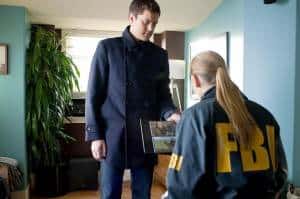 Nina Sharp is walking down a long hallway at Massive Dynamic. She gets to a small room which we see holds all of William Bell's most prized possessions but where oh where she wonders is his copy of '˜The First People?'As we know from the previous episode, he had embarked on a search for the book as well.
She heads to a secret safe and finds it in there along with a picture of the two of them and another of him and Walter. With the intention of talking about the importance of this book, Nina brings Olivia to her office and they end up engaging in an awkward albeit important bit of girl chat.
Nina is wondering if Fauxlivia knew anything about this connection between 'The First People' and the device. Olivia has poured over her file and there is no mention of 'The First People ' but it's full of information about Peter and her development of real feelings for him. Olivia question herself. She thinks Fauxlivia is her 'but better'so of course she worries if Peter could have developed real feelings for her as well. Given Nina's complicated relationship with William, she offers up the advice that since she can't know what he's thinking (hello foreshadowing!) that she just needs to just ask him.
Now onto the case of the week…
A man named Warren Blake has died. Given a 'voo doo'type doll for his birthday, a biological agent was released which caused his bones to break and dissipate in a very not pretty way.
We learn that a few former marines who had worked on a project called Project Jellyfish helped to develop this biological weapon and undertook this attack. Surprise, surprise, Warren Blake was the chief scientist.
As they're in the process of researching the case and chasing the suspects down, Olivia takes Nina's advice and asks Peter about Fauxlivia. That morning, Peter bought her a coffee. Only this coffee wasn't her usual black with one sugar. It was with milk; Fauxlivia's coffee. She questions him, Do you still think about her? All the time, he replies, I think about how she used my feelings to manipulate me. Peter assures her 'It was never because I wanted to be with her more. Because I don't.'Yet there's a tension between them and sadness in Olivia's eyes. The moment is broken by a fellow FBI agent.
Peter chases the subject down but before he can get to him, he is hit by a car. In a coma and unable to speak or breath on his own, the fringe division needs to find another way to interrogate him for information on more possible attacks.
continued on the next page
Tell us what's wrong with this post? How could we improve it? :)
Let us improve this post!