They talk to Aaron's ex wife who tells them that Aaron was out for revenge. It's Blake and the general's fault that he and his friends were unable to have children. This pathogen was passed on through their DNA and their babies could not grow skeletons.
Walter then remembers a kid in the Worcester Cortexiphan trials, Simon Phillips, who was developing the ability to read other's minds. Simon's life has essentially been ruined by this ability given to him by Walter and William so their reunion and his ask for help isn't pleasant.
However, upon meeting Olivia, he is pleased as he can have 'the first real conversation'he's had in 20 years. As a fellow Cortexiphan subject, he cannot read her mind. She pleads with him and lets him know they need his help if he can handle it.
Simon attempts to help them at the hospital, reading Aaron's mind and the CIA is brought in to provide more information about the project. They discover the big attack is meant to take place at Congressman Jim Thorn's charity event.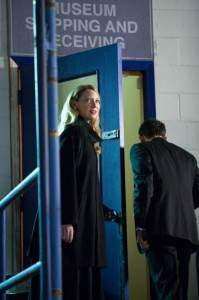 Olivia and Simon go all 007 at the party as an attempt to stop the attack. While Simon is crumbling under the pressure of everyone's thoughts he is able to identify the men who would be responsible for the forthcoming attack. Olivia guns them down and the threat is over.
'No one should know exactly what someone else is thinking,'Simon tells Olivia. He can't be with a girl he's seen at the coffee shop due to his abilities. He says he's too much of a freak for her. As he heads back into his house, he hands Olivia an envelope. He has read Peter's mind and tell her this is what it's like to be him.
We circle back to the beginning of the episode, as Nina is looking over the multiple copies of '˜The First People.'She deciphers the anagram of Seamus Willis to Samuel Weiss. In case you don't remember, Sam Weiss is the man at the bowling alley.
All signs are pointing to Sam being the author of the first people and with this revelation Nina pays him a visit. He tells her he isn't the problem, Peter is. The device itself can be used as a tool of creation or destruction and it all depends on your point of view. Peter happens to be uniquely and finely tuned to operate it.
Whatever frequency Peter is vibrating at determines how the device will operate which in turns depends on his state of mind. Peter's state of mind will depend on who he ends up with. Essentially whichever Olivia he chooses to be with, be it ours or Fauxlivia that's whose universe will survive.
Nina thinks this is no cause for concern, of course he will choose our Olivia. However, according to Sam and to the note Olivia got from Simon, we shouldn't be so sure.
As the episode ends we see the note says, 'He still has feelings for her.'
So what does this mean? Does the use of the device really depend on which Olivia he chooses? And what repercussions does this have considering the rumor and possible hint that Fauxlivia is pregnant with Peter's baby? What did you guys think of last night's episode? Do you think it's really that simple?
In next week's episode we head back 'over there'and see what's been happening with Fauxlivia, Charlie and Walternate. A lot of bugs are involved. Stay tuned for promos and photos and make sure to check back next week for our recap and review!