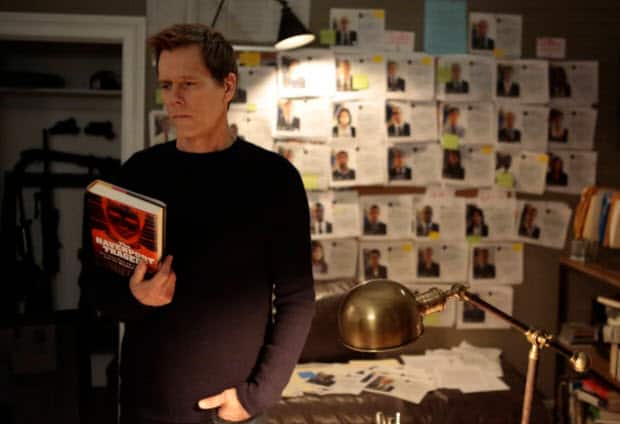 The Following has turned a corner for a brief moment. It amazes me to inform you that "The Messenger" does not feature a scene in which Ryan Hardy kills someone in cold blood. He must be tired. But if you tune in to see that kind of stuff, don't worry. It looks like Joe is bringing the Crimson Cult (that's what I'm calling them, because they wear red and because I am as clever as The Following – deal with it) to New York for some good ol' fashioned large-scale murder. That can only mean more cronies to jump into Ryan's crosshairs like lemmings. Why is the Crimson Cult coming to New York, you might be wondering? Well, I'm glad you asked. King Crimson (I'd hate to sully the name of one of the best prog. bands of all time, but how can you not call him King Crimson?) has a talk with Joe that espouses The Following's take on the mind of a psychopath. True Detective projected the troubled nature of its killer through rich imagery and the hellish landscape of its version of the city of Carcosa after dropping lengthy, thoughtful monologues about reconciling the pointlessness of existence and reiterating the endless battle between good and evil. Hannibal immerses its main characters in the horrors of violence as a means of understanding the perspective of its psychopaths through prolonged and repeated bouts of out-of-body experiences that blur the line between victim and perpetrator in psychologically damaging ways. The Following? The Following wants to be much more straightforward with you. Forget all that existential mumbo jumbo. King Crimson walks up to Joe in "The Messenger" and says "I wanna kill people." Good for you, King Crimson. Good for you.
Both killers – Joe and King Crimson – talk a little bit more about their respective desires for bloodshed, but that's essentially what it boils down to – they like it. Wonderful. Moving on. If you haven't seen The Following before, the beginning of "The Messenger" might resemble something akin to a television series that people would theoretically be interested in. Weston's rage prevents him from breaking down completely at his father's funeral in a scene that appears to have some sort of weight to it. Then, as our protagonists are leaving, one of Ryan's old flings pops up, sending The Following into one of its signature, awful flashbacks that the series seems to be in love with. It was good not terrible while it lasted.
"The Messenger" makes the smart move by dropping the Lily storyline, choosing to focus on the Crimson Cult and Ryan's investigation, which now has financial backing and approval. His story leads him to Joe's old mentor, who ends up being the evil guy Ryan suspects him to be. But instead of maybe making that ambiguous and parceling it out over a couple episodes, Ryan bugs the guy's place only to immediately hear his fling, a reporter, get kidnapped. This sends Ryan into don't-mess-with-the-women-I've-slept-with mode as he storms back in (shooting the door not through the lock to open it, if I saw that right) only to be sprayed in the face by anti-Kevin Bacon spray. Max and Weston come to his rescue, which, okay, I guess means Ryan and Weston are now on the same bloody path so that they won't keep clashing with each other for the rest of the season. However, Weston is the one who shoots someone in the episode without consequence. This complaint is getting repetitive, I'm sure, but just give us something – some kind of indication that police work is still being done in this series. "Weston, we need to take your statement." Is that difficult? Is it really?
Joe's scenes are even more insane, but when you're dealing with the Crimson Cult, that's to be expected. King Crimson and Queen Crimson share some passive aggressiveness as she realizes Joe is manipulating him behind her back. There's a weird party scene in which everyone is awkwardly swaying around a dance floor as King Crimson walks around like the town drunk and creep, handing out wafers and wine that kill his companions. As the chosen victims fall dead (including the one Mandy has a short-lived crush on), King Crimson turns everyone's cries of worry into a chant of "Send them home with shouts of praise!" Queen Crimson is not too happy about this, possibly because she dislikes shouting, praise and homes. But King Crimson is too intent on expanding his cult's opportunities. Afterwards, Joe and Emma get a little intimate, which is probably one of the weaker dynamics carried over from last season but one that was going to happen sooner or later. The Following's dissenters, after all, always need to worry about getting silenced for fear of their wafers and wine being poisoned without their knowledge. You may notice these people if you pass a group huddled around a dead body on the sidewalk, all of them chanting "Send them home with shouts of praise! Send them home with shouts of praise! Send them home with shouts of praise!" Etc.
[Photo via Giovanni Rufino/FOX]