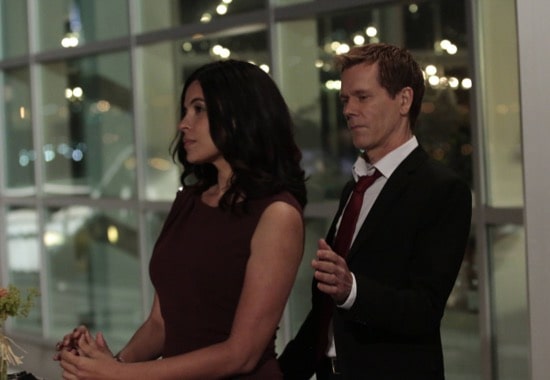 I have been following The Following (see what I did there?) since the first season, and rarely has there been a show that can have more of an effect on my emotions. Say what you will about the inner workings of the show, the emotional impact of the show is undeniable. Any show that can constantly make you feel like you've been punched in the gut, and make your heart pound between those moments, has deserves some serious credit.
The Following has been due for a reset of sorts. After Joe Carroll was dead, then alive, and then apprehended at long last, the show needed some "new blood," a new driving force for its characters. One year after the apprehension of Joe Carroll, the only serial killer remaining alive and "out there" was Mark Gray, the weaker of the Gray twins. Mark Gray has attracted his own followers since his mother and brother were cruelly taken from him, and now they are staging tableaus (classic Gray family) but with a twist: they are scenes from the death of Mark's family, and they are personal vendettas against Ryan, Max, and Mike for killing them. Apparently, something even bigger is on its way.
This is the first time in awhile that the "senseless killing" that has been detrimental to this show has had a real driving force behind it. Mark and Luke (who stays as a part of Mark's now-split personality, both played masterfully by Sam Underwood) always staged tableaus in their kills, but this time it's personal. Mark is the only person alive who knows that Ryan and Max helped cover for Mike in court. For once, the murders aren't about notoriety, or literary brilliance, or about going down in history, but instead, they are psychotic vendettas. And if Mark wasn't a psycho, he might have a point!
Season 3 has gotten off to a promising start. The Following proved pretty quickly that it can still create the signature tension that made it such a great show in the first place. On top of all that, however, the series has some potential for some seriously great drama. Mark wanting revenge on Ryan, Max, and Mike would make a compelling enough story for a short season show like this. However, we didn't even SEE Joe in this episode. What's the over/under on whether or not he actually gets executed? I'm betting that he doesn't. I'm HOPING that Ryan needs his help, because that was some of my very favorite television last season.
The Following is often carried by the strength of its actors. This is not a bad thing in the slightest. James Purefoy is one of the finest actors I can think of, so I'm really itching to see Joe again. Shawn Ashmore and Jessica Stroup have both given exceptional performances as Mike and Max. I'm so looking forward to the dramatic tension between the two of them, as we see Max "moving on" because Mike couldn't. Sam Underwood was wonderfully psychotic as both Luke and Mark last season, and since Luke remains a "mirror" image of Mark, Underwood still has an extra special load to carry. However, he's very convincing. The show is constantly toting in wonderful guest actors, as well. But the real star of the show is (obviously) Kevin Bacon. I would watch him in anything. He plays Ryan Hardy with such gravitas. I'm constantly impressed by the depth that Bacon has shown in this role. Of course, I've seen a lot of great work from Kevin Bacon over the years, but Ryan Hardy is a wonderful masterpiece, a man who is trying to live a normal life despite constantly having to hunt down serial killers.
We're only one episode in, and already my head is swirling with theories. Of course, one of my favorite things about The Following is how you're always mistrustful of new characters, and old ones, and how it keeps you interested, your heart pounding, and your head swirling!
Overall, this was a solid start to the year for The Following. It was a great soft reset of the series that maintained the spirit of the show, but pushed it slightly in a different direction. I'm certainly excited to see where it will go. My heart will be pounding alongside everyone else's.
What did you think? Did you enjoy this episode? Are you excited to see the new direction they're headed in, or do you miss Joe too much to keep watching? Let us know!
[Photo via FOX]