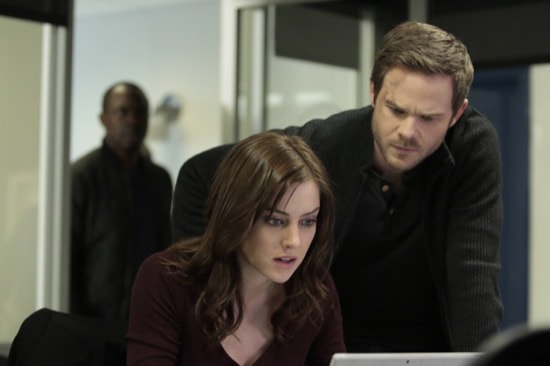 The Following has undoubtedly experienced a creative resurgence in its third season. There are twists, there are turns, and they've incorporated their old elements while operating in many ways that feel new. This episode reaches a crossroads between old and new, with twists that I didn't expect, and others that I've been waiting on for nine episodes.
This week on The Following: Max and Mike close in on the laptop that Tom has been hiding from them. Joe nears his execution, but he proves that he may know more about Theo than everyone thinks. Theo begins to affect Ryan's personal life, giving new meaning to the term "life hacking." Daisy and Mark are reunited.
Each episode of The Following is more and more of a whirlwind. Just as I come to terms with the previous twists, new ones throw me for a loop and keep me invested in what's going on. Each episode is just so well-crafted. My heart races and my mind is engaged, and I so enjoy spending an hour watching these stories unfold.
One of the highlights for me this season has been Ryan's journey. Obviously, that's about to come to a head (if you watched the previews for next week), but it's just been so fun to watch Kevin Bacon take Ryan down this new path. The dreams (nightmares? Maybe not) about Joe have been an excellent touch, giving Bacon and Purefoy (who have such strong chemistry) a chance to interact with each other more while Joe is in prison and creating some interesting psychological scenarios for the two actors to play out. Ryan's personal life has become more intimate than we've ever seen before, and his battle against his alcoholism has been a tremendous visual story. When people say The Following is about cults, serial killers, and the like, I can't disagree, but I have to wonder if it isn't about Ryan and his trying to stay above water.
New (and old) villains continue to come out of the woodwork, but this was a fascinating insight into all four of our main killers: Joe, Mark, Daisy, and Theo. Given what I know about Theo, I was shocked when he recruited that army guy to help him. Theo is a low profile kind of guy. Then I spent the entire episode wondering if he was about to embrace his notoriety since the FBI had figured out who he was. I was so riveted by that whole plot. To find out that Theo and Joe had met briefly, and Theo had come to Joe for help was fascinating, and makes me even more sure that Theo will begin to seek notoriety as time moves forward. But how do Daisy and Mark fit into this? An even more interesting question. They've reunited, even though Mark was "dead" and "Luke" was there, but where do they fit into the bigger picture? I wonder if there will be a move to unite the serial killers, or if Mark and Daisy will continue to service the Max/Mike plot while Joe/Theo affects Ryan. I honestly have no clue, and it's exciting! I love not knowing where things are headed.
All in all, another fascinating character study and thrilling hour television on The Following this week. With James Purefoy's Joe slowly pushing toward the forefront, I am so excited to see how things play out in the final few episodes, and hopefully push the show into a Season 4 renewal. I'll keep my fingers crossed.
What did you guys think? Are you enjoying the show as much as I am? Let us know in the comments!
The Following airs Mondays at 9/8c on FOX
[Photo via FOX]