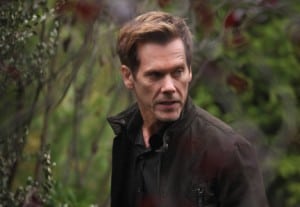 For weeks The Following has suffered some fairly brutal critiques for basically its entire portrayal of Law Enforcement. I'll admit, the idea that a notorious serial killer would have access to speak privately, with no monitoring, to completely random people, is a bit tough to swallow. There is an unspoken rule that needs to be named after some really great show and it goes like this: sometimes, if the story is bold enough, and the characters make the right kind of statements about the human condition, a few gaps in the suspension of disbelief can be forgiven. Unfortunately, as time goes on, it looks like this rule will never be called The Following rule.
With "The Siege" in particular, The Following hit some major credibility speed bumps, particularly with the introduction of Joe Carroll's attorney. It's not entirely clear initially why Joe has control over her, and the flashbacks are no help. I spent much of the episode in awe of what she was willing to do at Joe's command, not to mention the fact that she was even able to do it. Case in point: after first meeting with Joe she calls a press conference and delivers a message to the public on his behalf, a passage from Poe's Masque of the Red Death. The possibility of this happening is right up there with Carroll having private access to all of his groupies: nil.
Later in the episode, as Ryan and the gang are narrowing down the location of the kidnap house, the attorney delivers a private message to Claire saying if she ever wants to see Joey again to go to a specific location. Now criminally involved in Joe's new book, we have to wonder again: what could possibly make this woman so beholden to Carroll?
The incredulity doesn't stop there. Now that the FBI is fairly certain they have located the general area of the house Joey is being held in they send a whopping two agents to check out the location: Agent Mike Weston (Shawn Ashmore), and the newly deputized Ryan Hardy (Kevin Bacon). Maybe there is a shortage on Federal Agents we don't know about, but that seems a little lean of a task force. Of course once the location is confirmed, the ATF, State Police, and agents from every field office in the area are sent in. That's right, I said The ATF, because ATF stands for Alcohol, Tobacco, Firearms (and kidnapped kids).
There is a pretty tense standoff and Hardy naturally goes in without any backup to try to save the day on his own, and gets captured. It's a fairly rewarding segment, and these suspense driven segments are where The Following really shines, but the final moments between Carroll and his Attorney really haunt this episode.
It turns out that the circumstances that would cause an accomplished attorney to throw her career away and aid a serial killer are that back in the day Joe sent once of his 'followers' to her office to snip off a couple of her fingers. That's it. Apparently this master of the legal system never thought to report the crime to the police and expose Carroll's reach beyond the Penal system years ago. Would she be traumatized? Sure. Would she become an instant slave to Carroll because of this demonstration of savagery? I highly doubt it.
I'm not giving up on The Following just yet. If anything, the increasing number of credibility straining scenes are becoming a bit entertaining on their own. In all fairness, The Following could recover from this problem and level out to become one of those shows that follow that unspoken rule I mentioned earlier. I'm still betting it won't be the show that optimizes it so well that it comes to define the rule itself. But hey, Kevin Bacon is involved — so who's giving up hope?