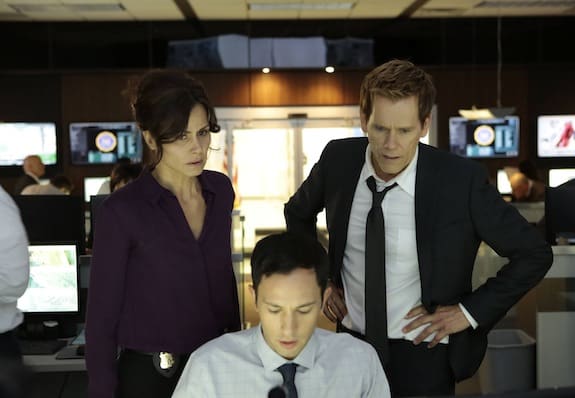 Knowing what the title of the episode means…I might not sleep well tonight. Wow. Seriously. The second installment of The Following Season 3 kept my heart pounding, my mind racing, and my attention throughout the entire hour.
This week on The Following: Mark and his band of misfits get into Agent Clarke's personal life. Max is tempted to come forward about their lies, but Ryan and Mike insist on silence. The FBI inch closer to catching Mark, but he barely evades their grasp. Ryan must visit an old nemesis in prison, but it isn't who you'd think.
Okay, now that two episodes of the new season are over…color me impressed. I had read how the show listens to its critics, and how the writers planned to change some things. After the first episode, I was optimistic that the change may actually happen. Of course, we all know that it's really the second episode that determines the new course of a show. Just in the last two episodes, they have visited consequences for the FBI "killing spree," the deaths of the red shirts have had much more meaning, and, in this episode particularly, there was death, but it really felt earned. There was a build, and the end of the episode made the character's death so much more meaningful.
I really enjoy that they're exploring more characters this season. Not just the "new characters," like the crazy couple and "Neil," but they're delving deeper into characters like Agent Clarke. Although Agent Clarke met a tragic end (RIP), we saw some background of his relationship with Ryan. We got to meet his wife. There was some real building of the character. Some would argue that building a character's background just before killing him off is fruitless, but in this case, I totally disagree. Building it up made you feel the consequences reverberate through the FBI and through the show. You can feel Ryan Hardy's pain, and that last scene with Ryan and his new woman (that he met thanks to Clarke!) was truly heartbreaking.
Another step that the show has taken to change is the shift from explicitly grotesque, to implicitly grotesque. A major complaint in previous seasons of The Following was that it was too bloody. This is still The Following, and it's about serial killers, so it's going to be bloody, but rather than show us blood, they create scenes and tableaus that are ultimately much more tense. Tonight's scene when they described what would happen to Agent Clarke (I won't repeat it for you here, because *shudder*) was grotesque enough just in the description. When Ryan, Mike, and the rest of the FBI arrived to find the box with Agent Clarke's badge sitting on top, everyone in the audience knew what had happened. Ultimately, it was very well-executed, ensuring that it would have more of an effect on the audience. Well done!
I have to mention Ryan's scene with Dr. Strauss as well. The show implied that Ryan was going to have to go see Joe. If there's one thing I'm upset that the show is missing, it's Joe Carroll. James Purefoy is just such a brilliant actor that adds so much to everything he does, so anytime we are without him is sad. However, a build is important. Ryan will inevitably have to go and see Joe to pull the pieces together, like Joe's connection to Andrew and therefore Mark. I'm really excited to see how the show builds to that point, and what kind of acting we'll see when we get there. James Purefoy wasn't in the episode, but Kevin Bacon is doing some excellent work this season. He's always great, but I just can't say enough about his work in Season 3 so far.
We've gotten another thrilling installment of The Following, the perfect complement to its predecessor. The show has taken the circumstances of Season 2's end, and created a gripping tale of which I can't wait for the next piece.
What did you think? Are you enjoying The Following as much as I am? Let us know in the comments!
[Photo via FOX]