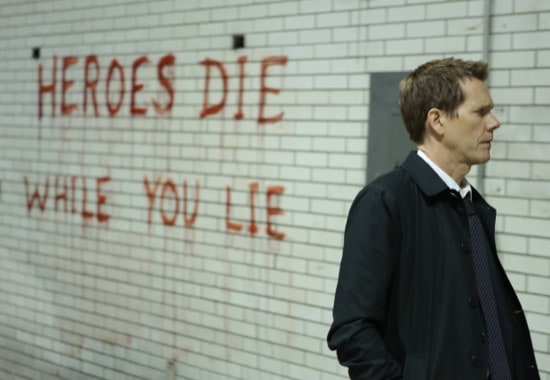 Wow. The Following has had an excellent season so far, but this episode was a real game changer. Now that we know who the season's real villain is, things are really starting to heat up for Ryan Hardy and his team. And I'm loving every minute of it.
This week on The Following: Dr. Strauss goes on trial, but it is not a favorable outcome. Mark's world begins to unravel. Mike and Max start to work out their unresolved feelings. Ryan, Max, and Mike come within inches of capturing both Mark and Strauss, but they elude their grasp. An investigation is opened into their pursuit of Joe Carroll. Ryan seeks advice in desperation.
All I have to say is wow. I'm glad this episode was a two-parter, because I think the suspense would've killed me if I'd had to wait a week in between. This week's installments were thrilling and intense, but also strong character episodes. I think the particular brilliance lies in Dr. Strauss being the villain, since he's the only possible person who could be greater than Joe. He TRAINED Joe. The fact that he used the FBI's credibility to his advantage was huge, and just one of the thrilling elements of The Following this season.
I've been so impressed by the acting her in Season 3. Shawn Ashmore and Jessica Stroup have been doing excellent work. Their Max/Mike relationship is perfectly dramatic. I certainly buy into the pretense that Mike chose chasing down Mark over her, but I also think that Mike is motivated to catch Mark in part because he wants to go back to Max when it's over. When they catch Mark, I think it's over for Mike. I can't say enough about the acting of Kevin Bacon, either. I mean, I know he's in everything so he must be pretty good, but seriously. Ryan Hardy is one of his greatest characters. I also think Sam Underwood deserves to be recognized for his turn as Mark (and as an extension of Mark's mind, Luke). Psychopathy is not an easy thing to play, but Underwood handles himself with such conviction. He's really fascinating to watch, and I'm glad that they didn't wrap up the Mark story this week.
I, for one, was immeasurably excited that Ryan finally went to see Joe. It was so good to see James Purefoy, even for a moment. It was his psychotic character that created the show as it is now, so it's wonderful to see the roots still there. I honestly thought that Joe would be a little happier to see Ryan (crazy, I know), but I suppose that we have another episode or two to see how that plays out.
Ultimately, The Following is headed in the right direction. Their "course correction" of sorts has worked perfectly. The FBI is being held accountable, Dr. Strauss is coming into his own as a formidable villain, Mark is still alive, and Joe is finally back on TV. They will certainly have their hands full, but everything they've done this season has been thrilling, gripping, and overall fun to watch. I can't wait to see where everything leads!
What about you? Are you enjoying the third season so far? Let us know in the comments!
[Photo via FOX]
Tell us what's wrong with this post? How could we improve it? :)
Let us improve this post!