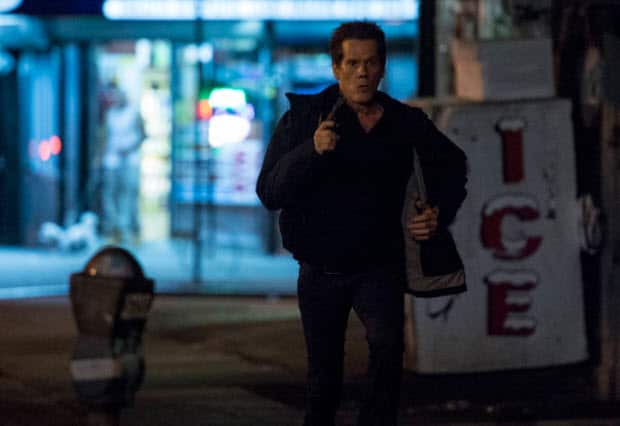 Welcome back to The Following, everyone's favorite serial killer series — or, if we're all being totally honest with ourselves, everyone's favorite television show of all time, period. That's right. The superiority of the Kevin Bacon-starring little-show-that-could(-kill) managed to throw its weight around enough to cross over onto other networks and get rid of trite things like Happy Endings, Enlightened,Southland and Bunheads to…ahem…CARVE…a bigger place for itself on television, because it knows that viewers are really only turning on their sets at night to watch DVR'ed episodes of The Following instead of all those other weird things ("Happy Endings!?" a Follower might say just before opening up The Collected Short Stories of Edgar Allan Poe. "There's nothing happy about living in this world in-between seasons of The Following!").
Fear not, Followers. It's back. And boy, is it dumb as ever. The second season premiere opens up with a super cool, action-packed scene that picks up right where we left off last year. Ryan gets stabbed, Claire gets stabbed, Ryan breaks some girl's neck, Ryan and Claire get hauled off into ambulances and poor Mike has to walk into Ryan's room to let him know that Claire's dead. This elicits a look from Kevin Bacon that says something like "You mean I'm stuck here while she gets to work on Justified? Just kill me already!" And then…
One year later! Because we know The Following's way of creating psychological discomfort is by doing a billion time jumps in each episode so that the viewer's head spins until their critical faculties wear off. It turns out Ryan's been running his own secret task force in the meantime, because he knows Joe is alive (and the one thing that we can legitimately credit this premiere for is not holding off on that reveal for several episodes; we actually see Joe at the end). This allows Ryan to smugly smirk at the feds as they try to probe him for some investigative help. Ryan doesn't need assistance nor does he want to provide it. Instead, he can do his own leg-work, like running an alias that he has pinned on his board through the system to locate one of the known cultists. Wait a minute…? One year later…one year later…one year later…oh, that's right. During the time that Ryan's been doing all his elaborate, solitary research, he hasn't thought to run that alias yet. ONE YEAR LATER.
If you thought Jacob, Emma and Paul were really textured antagonists last year, you're in luck. This year, you get to follow the Evil Twins, whose names may or may not also be biblically-inspired — we don't really care just yet, because we're too enamored with the amount of hair product they use. The Twins, when we're introduced to them, kill a woman and spend the rest of the evening with her corpse, playing house. It's that deranged kind of needlessly shocking and stupid way of doing things that The Following perfected over its first season. And as if that weren't enough of a shock-for-shock-value's-sake sequence, the main act of violence that gets Ryan called upon is a train stabbing, in which cultists wearing Joe masks kill several civilians. All cynicism aside, this is the main reason that The Following will always be an objectively bad, offensive and useless show. We live in a post-Hannibal world where violence on television can avoid being sensationalist altogether. Writers have an obligation to comment on that violence to some degree. Not all shows need to go the length that Hannibal does in terms of tracing the psychological effects that violence has on those who experience it either first- or second-hand, but it can't just be thrown in there the way The Following throws it in. There's nothing interesting about it. It's like using a car chase in a show in 2014 — what's the point? If you're not using the device to say anything or if you're not using it in a unique way, just leave it out. Work around it.
The Following doesn't work around its flaws, though. It just seems to wear them like badges. Or masks, in this case. Seriously, in the final montage, Ryan stands in front of a mirror with a Joe mask over his face and then pulls it off meaningfully as if to say "I need to become this monster to understand him." That is actually a thing that happens. What doesn't happen is a sign of conscious effort to help us better understand Ryan as a person. In the first episode of this series, Ryan was set up as someone with a drinking problem and a heart condition, both of which were portrayed in ways that suggested they would define him in some way. Since then, those traits have been all but forgotten save for the perfunctory nod. The thing that the writers did stick with — and hammer home, in case it wasn't clear — is Ryan's hyper-empathy towards the victims of violence. In "Resurrection," he shows up to the hospital room of the sole survivor from the train attack and apologizes. Is it because he genuinely feels responsible for what's happened to her? Is it because he knows what it's like to see people killed and to be attacked himself? The stock response when dealing with The Following is always the same: who cares?
[Photo via David Giesbrecht/FOX]