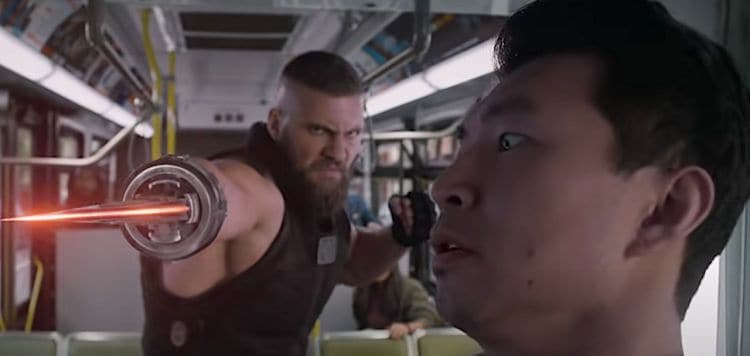 Shang Chi and the Legend of the Ten Rings introduces the little-known Marvel enemies of the Shang-Chi comic book history. A good example is the villain Razor Fist. As the name suggests, he has a massive, razor-sharp blade attached to his arm. Florian Munteanu plays the role of the Razor Fist. In the comics, we see him bring out the part with great power and ferocity. Shang-Chi and the Legend of the Ten Rings mark Florian Munteanu's second blockbuster and his second film. His audiences will learn more about his mysterious character, affectionately known as the Razor Fist. You might be wondering why it is called the Razor Fist. Well, during the Shang-Chi trailers, we caught a glimpse of the story behind his sword arm.
The razor fist makes Florian Munteanu's lethal presence known during a bus fight. The fight has been Shang-Chi's focal point of marketing. He comes off as the strong-arm of a 007 antagonist or a James Bond villain without letting out too many details. By any means, Razor Fist isn't the Shang-Chi and the Legend of the Ten Rings ultimate foe. The role belongs to Shang-Chi's power-hungry father, Wenwu (Tony Leung). Wenwu always has his Razor Fist ready because he doesn't want to get his hands dirty in a street fight.
Who is Razor Fist?
Razor Fist first appeared in Master of Kung Fu #29 in 1975, according to the comics. Before, there have been three-character iterations – Douglas Scott, William Young, and William Scott. Carlton Velcro replaces the hands of William Young with razor blades. Young is an enforcer who fights Shang-Chi. His employer's men accidentally gun him down. Twins Douglas and William Scott both lose a hand and have them replaced with a razor blade. The twins battle Shang-Chi, but William also gets gunned down by their employer. Douglas goes on to work with The Hood, another villain, and becomes the premier Razor Fist. Razor Fist comes off as a highly-skilled mercenary and martial artist who takes on Spider-Man, Hawkeye, Wolverine, and Shang-Chi. However, he stands out from the other mercenaries due to his arm blades. Razor Fist's arms aren't the Vibranium or Adamantium type, unlike most blades in the MCU. They still prove to be deadly in combat, even though they're of steel.
The Sword Arm Story of Florian Munteanu
When Florian Munteanu spoke about his character's backstory, he explained how he ended up with the strange arm. He said that together with Destin Daniel Cretton, the film director, they discussed different scenarios. The discussion was to make Munteanu understand his character better. He then elaborated that on one of his business trips in Romania, Wenwu found a little beggar in the streets. Using one arm, he was juggling three balls. It inspired him, and he took and raised him as his stepchild. He created a gallant soldier out of him. That is the background story of the sword arm. You now understand how this backstory creates tension between Razor Fist (Florian Munteanu) and Shang Chi (Simu Liu) since Shang Chi has rejected his father's love. On the other hand, Razor Fist stands in like a surrogate son. The surrogate son gets training as a killer and receives the sword arm.
Is Razor Fist a Superhero?
Actor Florian Munteanu says the character Razor Fist is a champion and not a felon. The film stars Meng'er Zhang, Simu Liu, Michelle Yeoh, Tony Leung, Akwafina, and Fala Chen. Shang-Chi needs to contend with many villainy in the film even as he faces the Ten Rings organization. The group led by Tony Leung's Wenwu (aka the Mandarin), Shang-Chi's father, has wreaked havoc throughout the MCU and the Iron Man trilogy in general. Razor Fist is one of the strongest enforcers of the group. Florian Munteanu maintains that Razor Fist isn't necessarily evil even after his steady bus fight scene with Shang-Chi with his indisputable villainous character design. He draws an interesting distinction of supervillains: they're still superheroes even though they fight for the other side. Munteanu's viewpoint is intriguingly layered.
It tells that no single person would view themselves as a villain. Everybody is fighting for what they believe to be a righteous cause, even if they come from a different perspective and are characters in the film. We need to consider that Shang-Chi and the Legend of the Ten Rings is the 25th film in the MCU and a part of a long-term franchise. Razor Fist may end up in a fight with the Avengers. If it never happens, he could be a hero in somebody's eyes because, as a super-powered being, he fights for what he believes in.
How Strong is Razor Fist?
Due to Razor Fist's enhanced hand, he possesses enhanced durability and strength. His retractable blade was able to cut a bus in half. Even though it got destroyed in the Ta Lo battle, they replaced Razor Fist with a new magical sword. The material used to make the blade was dragon scales that could cut through almost all objects. You might recognize Florian Munteanu from Creed II, the Michael B. Jordan boxing sequel, as Ivan Drago's son. He was a force to be reckoned with in that feature, and in The Legend of the Ten Rings, he makes Shang-chi's life difficult. Once the film begins screening in theaters, please check it out and see how it plays out.
Tell us what's wrong with this post? How could we improve it? :)
Let us improve this post!