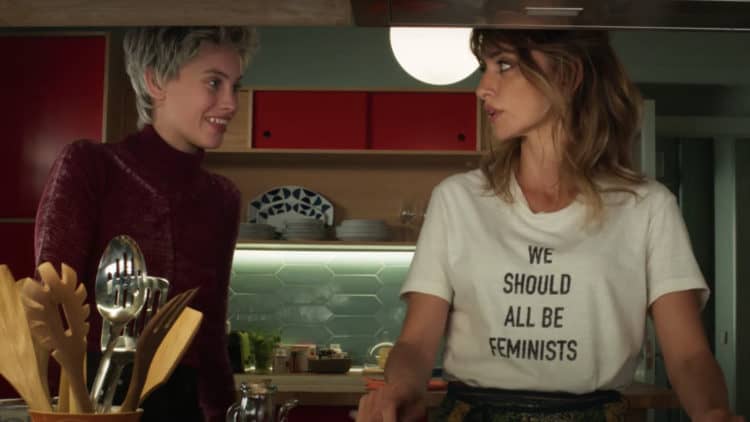 It's not easy being a foreign actress in Hollywood. The language barrier and the intense competition is not for the faint of heart. Through the years, more and more foreign actors and actresses have penetrated the entertainment industry, and have gone on to showcase their capabilities in the most authentic of ways. One of them is Spanish actress, Penélope Cruz. Cruz made her acting debut at the young age of 16, and has since celebrated career filled with major film productions, major acting awards, and acting alongside Hollywood's best and brightest. She is one of the Spanish actresses who has already cemented her mark in Hollywood, yet never fails to look back where she came from. Cruz continues to contribute to the Spanish film industry, and juggles her time between Hollywood and Madrid. She's a force to be reckoned with, and there's no dimming her star and endless talent anytime soon. Here are five times she has proved that she is more than just a bombshell beauty:
5. Her acting debut in Jamón Jamón
The romantic tragicomedy directed by famed Spanish director, Bigas Luna, was Cruz's debut film. She portrays the role of Silvia, a young woman who gets impregnated by José Luis, the spoiled heir of a powerful underwear manufacturing empire. She starred alongside her real-life husband, Javier Bardem (No Country for Old Men), who portrayed the role of Raúl Gonzales, the man who José's mother sets Silvia up with to avoid further controversy. Sexuality and desire were recurring themes in the film. This could be intimidating for a new actress like Cruz, but she was committed to deliver her role with conviction. She knew what she wanted at a young age, and her portrayal was able to catch the attention of viewers and filmmakers. This was an important moment in her career that led to opportunities in Hollywood. Cruz was tenacious enough to strike while the iron was still hot.
4. Her compelling performance in Volver
Cruz is also best known for her collaborations with multi-awarded Spanish filmmaker Pedro Almodóvar. The two have worked together in various films throughout the years, and just like fine wine, they just get better with time. The comedy drama revolves around an eccentric and dysfunctional family. Cruz portrayed the role of Raimunda, a single mom who does everything she can to protect and provide for her 14-year-old daughter, Paula. The film is filled with unexpected twists and turns that make it all the more entertaining. There is the part where Raimunda's deceased mother, Irene, returns from the dead to cover some unfinished business, as well as the truth behind Paula's biological father. The complexity of the characters matched Almodóvar's unique style of directing, which in turn, complemented Cruz's depth as an actress so well. The film went on to receive critical acclaim at the 2006 Cannes Film Festival, and gave Cruz her first Academy Award nomination for Best Actress. It was a momentous occasion, which marked the first time a Spanish actress was nominated for this category. This might have served as extra fuel for Cruz to excel for in her craft.
3. Her award-winning portrayal in Vicky Cristina Barcelona
The romantic comedy drama by acclaimed filmmaker, Woody Allen, allowed Cruz to show her wide acting range. She portrayed the role of María Elena, the unstable ex-wife of Juan Antonio, portrayed by Javier Bardem (No Country for Old Men). This is the second time wherein Cruz and Bardem worked together in a project, and the one where they finally fell in love with each other. The film covered the different relationships in Juan Antonio's life. There was his previous tumultuous marriage to María Elena, and his current romance with Cristina, portrayed by Scarlett Johansson (Marriage Story), who he met while she was on vacation in Europe. Cruz was able to play the role of María Elena in different layers, and was able to evoke different emotions that could go from humorous to dramatic. This versatility did not go unnoticed, as it allowed her to win her first Academy Award for Best Supporting Actress. It was indeed another career milestone for the Spanish actress.
2. Her musicality in Nine
Stage-to-film adaptations are usually big budget productions with high expectations. The romantic musical drama by Rob Marshall may not have met its audiences and critics' standards, but it was still able to exhibit the skills and musicality of its all-star cast, which included Cruz. The film follows the colorful life of Guido Contini, portrayed by Daniel Day-Lewis (Lincoln), a film director who is undergoing a mid-life crisis that is affecting his creativity, and entangling him in a string of affairs and romances. Cruz portrayed the role of Carla Albanese, Guido's mistress. She was able to show her musicality through death-defying song and dance numbers, while having to create an Italian accent in the process. Cruz's performance showed her fans a different side of her, and proved that her capabilities knew no bounds. Is there anything she can't do?
1. Her heartfelt role in Parallel Mothers
Cruz's latest collaboration with Almodóvar tugs at viewers' heart strings. The melodrama is a story about confronting the joys and pains of motherhood that is all so relatable. It also hits close to home, as Cruz herself is a doting mother to two children, and has since been vocal about how she has always dreamt of being a mother. Viewers are able to see an older and more mature Cruz portray a role that required a whole range of emotions. The film, which first premiered in the 78th Venice International Film Festival has since received critical acclaim, and is considered to be a possible Academy Award contender. It's another feather on Cruz's cap, and one that proves why she is considered to be one of the most talented actresses of her generation.
Tell us what's wrong with this post? How could we improve it? :)
Let us improve this post!