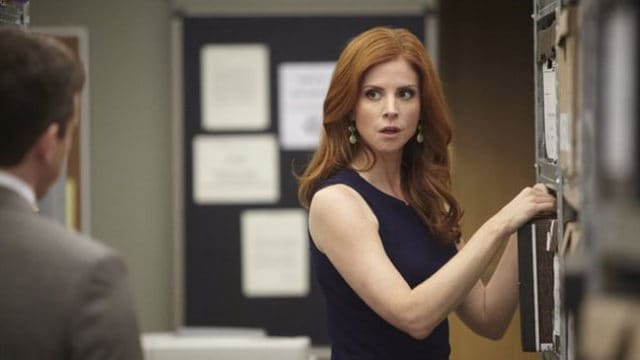 Although she is best known for her role as Donna Roberta Paulsen on the USA Network drama Suits, Sarah Rafferty has appeared in shows and movies, including Without a Trace, Six Feet Under, Charmed, and 8 Simple Rules. When she's not onscreen, Sarah is the complete opposite of the high powered, well dressed executive she plays. To give you a better idea of who she is and what she enjoys most, here are 5 things you didn't know about Sarah Rafferty.
She is a lot of fun at pool parties.
When she was 8 years old, Sarah attended a summer camp, where she learned quite a few synchronized swimming moves. More than 30 years later, she said in an 2015 interview with Good Housekeeping, "I still have some synchronized swimming moves in my back pocket. I can really wow people at a pool party."
She is well educated.
Sarah decided at a young age that she wanted to be an actress, but she wanted to hone her craft before trying to make it in Hollywood. After graduating from a private girl's high school in Greenwich, CT, where she participated in the school's theater program, she decided to attend Clinton, NY's Hamilton College. During her junior year, she studied abroad at the University of Oxford. By 1993, she had graduated magna cum laude with a double major in English and Theatre. Later, she received a Master of Fine Arts from The Yale School of Drama. After finishing her master's degree, she started auditioning for TV shows and movies.
She has a long history with Gabriel Macht.
On the show, there is plenty of sexual tension between Sarah's Donna and Gabriel's Harvey. In real life, there is no sexual tension. Instead, they are good friends. They originally met at the Willamstown Theatre Festival in 1993 and have remained close ever since. In a 2012 interview, Macht said, "We go back 20 years and our daughters are best friends. We are really, really, really close friends. We've been to each other's weddings." In fact, Sarah only decided to audition for Suits after getting a copy of the script from Gabriel.
Sarah has been married for more than 16 years.
Sarah married her husband, Aleksanteri Olli-Pekka Seppala, a stock research analyst, on June 23, 2001 in her hometown of Greenwich, CT. Today, the couple remains happily married and are the parents of two daughters, Oona Gray (born in October 2007) and Iris Friday (born in January 2012). The family splits their time between Toronto (where Suits is filmed) and Los Angeles, CA.
You will rarely catch her outside without this one thing.
As a natural redhead with an ivory skin tone, Sarah is a big believer in always wearing sunscreen. In a 2017 interview with CBC Life, she was asked what desert island beauty product she could not go without. Her answer, "SPF. Anything with sunscreen." She also admitted to opening a closet full of hats to keep the sun off her face when she heads outside, especially in the summer.
Tell us what's wrong with this post? How could we improve it? :)
Let us improve this post!