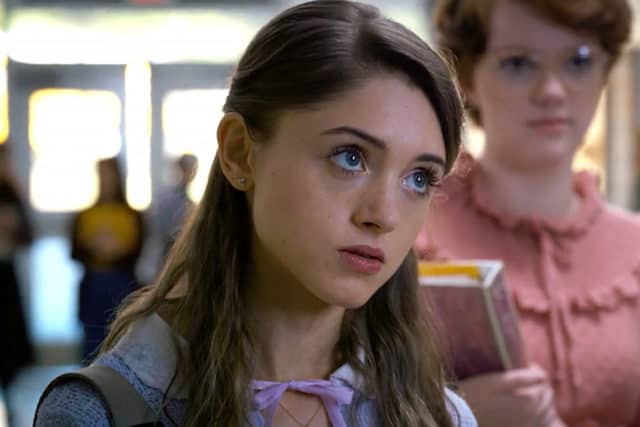 Natalia Dyer is an American actress who should be best-known to most people for her role as Nancy Wheeler on Stranger Things. However, it should be noted that she has appeared in other movies and TV shows, meaning that it is far from being her first role in her chosen profession.
Here are five things that you may or may not have known about Natalia Dyer:
Studies At NYU
At the moment, Dyer is a student at New York University. To be exact, she is a a student at NYU's Gallatin School of Individualized Study, which is as its name states, an interdisciplinary college that lets its students create their own interdisciplinary programs tailored for their particular needs and circumstances. As a result, it should come as no surprise to learn that Dyer is far from being the sole actor or actress who has attended the school. In fact, she is far from being even the sole actor or actress attending the school at the moment.
Her First Role Was in the Hannah Montana Movie
Dyer's first role was in Hannah Montana: The Movie. She and Rachel Woods played the twin daughters of Oswald Granger, a journalist who discovered Hannah Montana's double-life but decided not to publish his findings because they liked her music so much. It was not a particularly important role, but it nonetheless paved the way for Dyer to appear in more roles in more movies and TV shows.
Got Scripts for Stranger Things As It Was Filmed
The cast members of Stranger Things received new scripts on a regular basis as they filmed Stranger Things. As a result, Dyer and the other cast members would meet up to read the scripts together as a team. It is interesting to note that because of this approach, Dyer actually got much the same surface-level impression of her character as the viewers when she started out before getting to uncover more and more of what laid beneath the surface, which in a sense, meant that her experience with Nancy Wheeler was actually not unlike that of the viewers.
Most Challenging Scene Was the Tree Scene
Dyer has stated that the most challenging scene for her in Stranger Things was the tree scene. In brief, she had to climb into the tree and then get pulled out of the tree over and over until the crew got the desired footage. All while slathered in some sort of goo for the scene. Perhaps unsurprisingly, Dyer stated that she was in a state of mild disbelief about what she was doing with her life during the filming, though she has also stated that it paid off in the long run.
Considers Stranger Things to Be the Right Sort of Horror for Her
In an interview, Dyer has stated that she didn't realize how scary Stranger Things could be until she saw the end results because she was so caught up with the relationships between the characters during filming that the horror elements retreated to the back of her mind. With that said, she actually found the amount of scary content in Stranger Things to be right for her, which is to say, it had moments that she found unpleasant but not so much so that they became overwhelming.