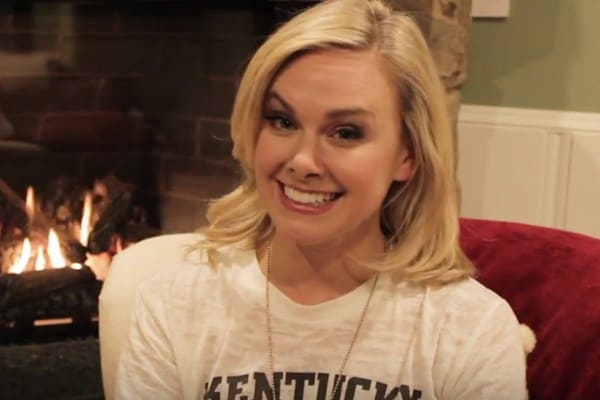 Laura Bell Bundy is an American actress and singer that's been around for a little longer than most people realize. She's got a modest amount of films under her belt and has a lot of TV appearances on her resume that allude to how sought after she really is. While she might not be one the biggest stars in Hollywood she's still fairly young and has plenty of time to get to that point. At the age of 36 there's still a lot of room for development and for her career to expand if she so desires.
Here are a few other things you might not have known about Bundy.
5. She played Amber von Tussle in the musical of Hairspray.
For a woman that looks so sweet it's hard to imagine her playing a spoiled brat like Amber. Fans of the original version can probably recall just what this privileged little girl was like back then. Bundy played the role beautifully and she nailed her part in such a way that you could actually believe that she was the stuck up, scheming brat that Von Tussle has always been known as. It had to have been a challenge to be that bad though.
4. She was Elle Woods in the musical version of Legally Blonde.
She's spent a bit of time on Broadway which is a big up in the business for most people. It shows that you can do live shows without folding under pressure and it gives actors a great deal of experience in many different ways. Bundy has been magic on the stage and is no doubt going to continue to shine in a way that keeps getting her noticed.
3. She had her stage debut at nine years of age.
Some people might think that's kind of young but honestly these days a lot of actors are being started out as children to either make use of their talents early on or get them used to the pressures and rigors of life in Hollywood. It could be both really, but a lot of young people don't make it that far as they find out that the pressure is no joke. Bundy is one of the fortunate ones that has lasted this long.
2. She was in Jumanji.
Bundy played the part of the younger Sarah Whittle, the girl that had to watch Alan Parrish get sucked into a board game. She didn't have the biggest part, but it wasn't the smallest one either since she and young Alan came back near the end of the movie once the game had been won. The best part about that was the fact that they got to keep their memories of the world as they'd experienced it.
1. She's a country music singer.
Her first song Giddy On Up debuted in 2010, with a second hit song following the same year. Despite the success she did have however she said goodbye to the studio that had signed her in 2015.
So far she's done a fair amount in her career, but Bundy is likely to stick around and surprise people as the years go by.
Save
Tell us what's wrong with this post? How could we improve it? :)
Let us improve this post!