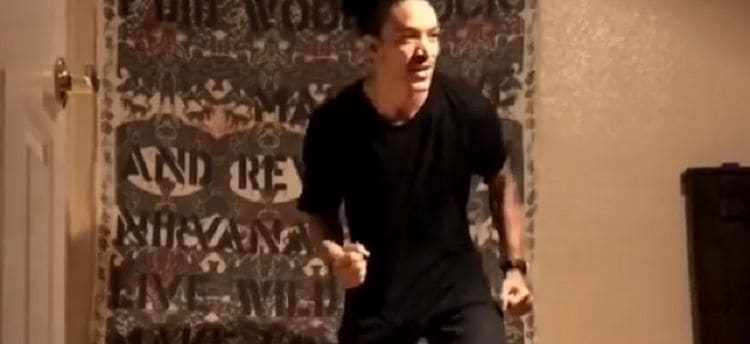 You can call him Malik or Skitzo; he has been the talk of the town following allegations of his romantic ties with the acclaimed American pop star, Madonna. Many would fail to recognize him because of his nonentity status, but he has caused heads to turn in recent news. The 25-year-old professional dancer has hit the headlines for being the lucky man on whom the iconic musician has laid eyes. Madonna, 61, and Williams, 25 have set tongues wagging as many people gasp at the considerable age difference. However, with Madonna, we have grown to expect anything since Ahlamalik Williams is just one amongst many of her youthful conquests. Apart from his budding romance with Madonna, there is a lot more to know about Ahlamalik Williams as detailed below.
1. He is from California
Ahlamalik was born to Drue Williams, a retired United States Navy veteran and Laurie Williams, and raised in California alongside his two siblings. His brother Ahlijah Williams also is a dancer who lives in Las Vegas while his sister, Leyana Williams, lives in Arlington, Texas. He attended Monterey Trail High School near Sacramento and later moved to Las Vegas to perform as a street dancer.
2. He tours the world performing dances
He has toured a couple of places performing his dances and made a name for himself in the dancing profession. His prowess has led to him bagging multiple accolades in various cities around the world, including Shanghai, London, Paris, Taipei, and other notable locations globally as the BeastNetwork notes.
3. He is Madonna's back up dancer
Williams is the man of the moment as talks of him dating the "Vogue" singer, Madonna, hit every newsroom. The professional dancer auditioned for Madonna's Rebel Heart tour in 2015 and successfully made it into Madonna's back up dance crew.
4. A member of Raw By Nature Dance crew
Williams's life revolves around dancing with his career, dating back to a Las Vegas dance crew by the name Raw By Nature. The dance crew consists of members who dance with might and purpose as maintained by the group on their Facebook group profile. The team boasts of having members who have honed their craft over the years and are unique with their style.
5. Parents approve of his relationship with the pop star
It most likely would break the heart of any conservative parents to see their son with a woman more than twice his age. However, Ahlamalik's parents seem to be progressive; they have both expressed positive opinions concerning their son's newfound love. The debate on the couple's age difference has not triggered any concern from his parents. According to the Mirror, Ahlamalik's parents stood by their son's decision to date the seven-time Grammy winner. Despite the considerable age difference between the two, Drue Williams has continued to encourage his son to pursue the relationship; he is on record saying there is no age gap when two adults consent into romance. Similarly, his mother has her reasons why she thinks it will work out for the best; she believes Madonna is going to stick by her son because of his talents. Drue and Laurie are so optimistic about the romance that they are hopeful for wedding bells soon.
6. Has danced for Cirque Du Soleil's Michael Jackson: One Show
Ahlamalik is part of the energetic dance and acrobatic performance by Cirque Du Soleil show as a solo dancer. The show presents the thrilling performances of Michael Jackson's music.
7. Was criticized for his relationship with Madonna
This is not the first time Madonna is in the spotlight over her engagement with men younger than her. Still, her relationship with Ahlamalik has been much criticized by Wendy Williams. Wendy, during the Hot Topics segment of her talk show, came out publicly to raise her concerns over the couple's age gap. According to HollywoodLife, Wendy maintains that the relationship is out of place because Madonna has a daughter only two years younger than Ahlamalik. Wendy said that she expects Madonna to perhaps get into a casual relationship with Ahlamalik but not a formal one. She goes ahead to express her sympathy for the "Material Girl" hitmaker for her failure to realize the need to age in a respectful and dignified way.
8. His parents have always been huge Madonna fans
Now we can guess why Drue does not mind his son dating the artist; he and his wife love Madonna. The relationship is also working in the best interest of the parents because now they get to have front row seats to her shows. According to TMZ, Drue and Laurie were personally invited to Madonna's shows in early 2020, and they have already booked their flights to London and France.
9. He is a choreographer
He is undeniably good at his craft and is listed on the "Queen of Pop's" tour website as both a dancer and a choreographer. He is renowned for uploading videos of his dance routines on his Instagram account, offering his followers some dance techniques.
10. He is active on social media
He may not enjoy the millions of followers celebrities get on social media platforms, but that does not stop him from maintaining an active profile on his Instagram. With only 80,000 followers, he still keeps them up to date with dance videos. Ever since he started dating the pop icon, he took his followers by surprise by posting Madonna's image with a caption celebrating her birthday. He seemingly does a lot with his social media accounts rather than just entertainment. In a recent Instagram post, he has also shown his support for his girlfriend by endorsing a message in Madonna's music video, "God Control." Ahlamalik was quick to praise the music video on his Instagram and show gratitude for being part of the message.
Tell us what's wrong with this post? How could we improve it? :)
Let us improve this post!