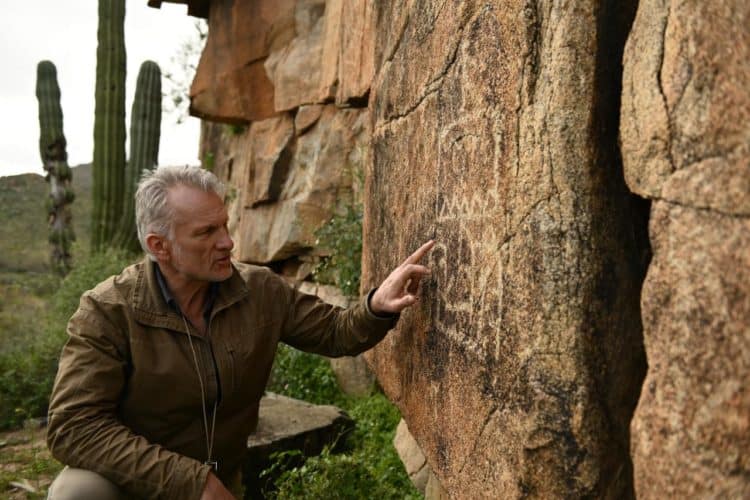 Scott Wolter is best known as the host of the television show "America Unearthed." He's generated some controversy among viewers who have challenged some of the claims that he's made. Wolter is an interesting personality and we found several things about him that aren't common knowledge to those who haven't watched the show, so here are 10 things that you probably didn't know about Scott Wolter.
1. His claim of an honorary degree was debunked
Scott Wolter claimed that he was granted an honorary master's degree in geology in 1987. He stated in a corporate biography that the University of Minnesota-Duluth had bestowed this honor upon him. It's one of the credentials that he asserts qualifies him as a forensic geologist and that he earned his bachelor's degree in the discipline in 1982. When asked about the degree, the University of Minnesota could find no evidence of Wolter's claim and they maintain such records all the way back to 1932. It's possible that the records were lost though. It would be helpful if Wolters had an official document that confirms the conveyance of the honorary degree.
2. Wolters admitted that he is inexperienced in examining ancient materials
Wolter admitted back in 2001 that he didn't have any training, nor experience with analyzing ancient materials of stone. He shared that the bulk of his expertise was in scientifically testing concrete. This makes some wonder then, how he can call himself an expert in forensic geology? This is where one of the largest controversies about his expertise has come to be. Although he does have a confirmed bachelor's degree in geology. There will always be critics who challenge claims and it's up to those making the claims to support their validity, when taking a scientific approach to the matter.
3. He's authored several books
Wolter has done many things in his life. He's a television host, a researcher and he's also an author. His books have been well-received and include "Lake Superior Agate," in 1986, "Ettringite: Cancer of Concrete" in 1997, "The Lake Superior Agate, one Man's Journey" in 2001, "The Kensington Rune Stone: Compelling New Evidence" in 2005, "The Hooked X: Key to Secret History of America" in 2009, "Amazing Agates: Lake Superior's Banded Gemstone" in 2010 and From Akhenaten to the Founding Fathers: The Mysteries of the Hooked X" in 2013.
4. He's an inventor
If there was any doubt about Wolter's expertise before, it should be alleviated by the fact that he is the man who has invented Archaeopetropraphy. It is a process that is used to understand more about the origins of stone artifacts by dating them. Having this accomplishment under his belt certainly does seem to qualify him as an expert in forensic geology with or without an honorary master's degree.
5. Scott F. Wolter is a controversial figure
Wolter has made several significant contributions to the field of forensic geology. He's spent years of his life in conducting research and creating dating processes to learn more about ancient artifacts. He's shared his expertise with the world through books and through the medium of television. Although he is accomplished in many ways, there are other aspects of his life that create serious controversy regarding his credibility. It's difficult to know for certain what to believe.
6. Wolter explained the situation of his honorary degree
Scott explained that he gave a lecture about his research to the UMD Geology department. It was upon invitation and he met with six of his former professors to answer questions that they wished to ask hi. They were satisfied with the answers and after the lecture, threw an informal reception. It was at this time that the professors devised the notion of granting an honorary degree. He stated that they gave him whipped cream on top of his coffee and told him that was his certificate. Wolter called it a sympathy degree and asserts that he has never claimed that it was any more than that. The story of the event was published by the company he was employed with at the time and it was listed on his resume as an honorary degree. When explained, it makes the situation sound much different than what the critics had asserted about him.
7. He founded an organization
With so much knowledge and information to share,it's good that Wolter is involved in so many educational pursuits. He also has the knowledge and expertise to help others in their quests to learn more about artifacts from antiquity. Scott founded the American Petrographic Services organization in Minnesota. He also serves as the President of the organization.
8. He helped with the 911 situation
Scott is an expert in the scientific handling of concrete. After the attacks of September 11th on the World Trade Center, he was present to help out. He assisted in the analysis of the concrete remains after the terror attack.
9. He was criticized for accepting an award
A controversial podcaster who goes by the name of "Frank from Queens" He's known for his racist content. Frank has a fictitious World Council on Solutrean Elders and through this made up group, he bestowed the "Soultrean 2014 Man of the Year" award to Scott Wolter. Scott declared that he appreciated it, said it was an honor and thanked him. This stirred criticism from those that felt Wolter shouldn't have accepted the award because of who was offering it. We're all entitled to our opinions.
10. He's known for saying "Science is Wrong"
Scott Wolter's mantra is consistently the same. He believes that in many regards, history does not properly relate the actual events which have unfolded and he believes that in a lot of ways science has got it wrong too. He subscribes to several conspiracy theories and academicians seem to take exception with much of what he has to say.